Andrej Kiska comments on the Vietnamese abduction and Night Wolves
31.07.2018, 15:29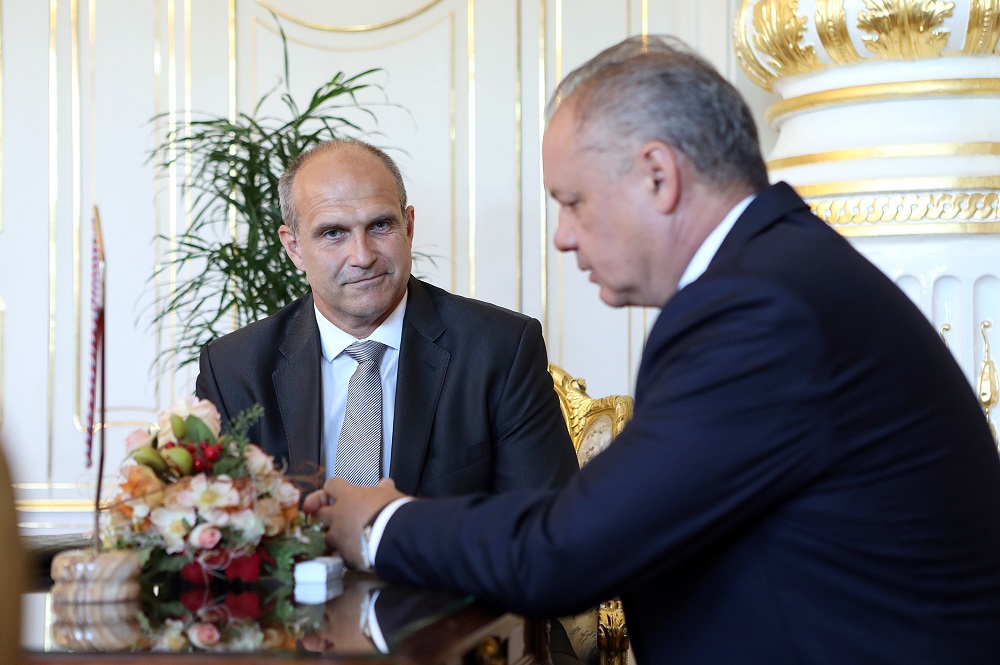 On Tuesday, Andrej Kiska gave an account of interviews he had at the Presidential Palace with Police Force President Milan Lučanský and with the head of the Slovak intelligence service.
"We talked about two topics. The first was a discussion of the circumstances surrounding the establishment of the so-called "European headquarters" of the Night Wolves motorcycle gang and their operations in Slovakia.
The second concerned the alleged abduction of a Vietnamese citizen using an airplane that had been chartered by the Slovak Government, something I have repeatedly pointed out and which, unfortunately, is developing into an international scandal for the Slovak Republic.
Regarding the first target, let me remind you that the Night Wolves were involved alongside special units of the Russian Army in military operations happening in Crimea. Many motorcycle club members have received state honors in Russia for it. The founder of the Night Wolves has been sanctioned for his participation in Russia's annexation of Crimea and is not allowed to travel to any of the Member States of the European Union.
So, it should be clear that these people are no harmless motorcycle enthusiasts. The Night Wolves are an instrument that has been employed in the occupation of a neighboring country's territory, namely the annexation of a part of Ukraine in violation of international law, an annexation which the Government of the Slovak Republic has neither recognized nor accepts today. Due to this, Slovakia has imposed sanctions on Russia along with other Western countries and repeatedly voted for continuing them.
In view of these circumstances, this motorcycle gang operating in Slovakia represents a security risk for the country. At the same time, the establishment of the Night Wolves "European headquarters" in Slovakia makes a mockery of the Slovak Government's official position on the annexation of Crimea and its policy toward Russia.
Police Force President Lučanský has informed me at today's meeting that the police cannot act unless laws have been broken. I believe that it is a rather poor security strategy to wait for an organization serving a foreign state to start breaking the law in the Slovak Republic. Therefore, I urge the Government to provide the security forces with all the necessary conditions for effective action against dubious organizations spreading throughout our country.
In connection with suspicion growing increasingly stronger that an airplane chartered by the Slovak Government was used to abduct a Vietnamese citizen, I find it difficult, as Head of State, to express by words. This subject began becoming a topic of conversation a year ago. I have spoken repeatedly about the duty of Slovakia's law enforcement authorities to investigate these suspicions thoroughly and honestly. We cannot make people confident about Slovakia's national institutions until we start devoting ourselves straightforwardly to this case. There is also grave suspicion of gross abuse of state power, as happened when President Michal Kováč's son was kidnapped. How can we politicians stand before tens of thousands of people calling for a decent Slovakia, where political power will not be misused?

Instead, we are witnessing obfuscation, alibis, misleading of the public and excuses made to German investigators. Do we really need to learn everything from German investigators? Such behavior is not contributing toward increasing public confidence in the ability of the police, law enforcement authorities and the national government to ensure justice.
Let me remind you that it was such mistrust which an enormous number of people expressed in the streets after the murder of two young people, leading to the fall of the Government. Moreover, this case is already taking on the dimension of international disgrace. And it can have a serious impact on trust in relations between Slovakia and Germany, one of our most important political and economic partners. Just today the German media are talking about this abduction like something out of a Cold War thriller.
As President of the Slovak Republic, I expect, together with citizens of the Slovak Republic, to learn about an investigation regarding suspicions of whether a Slovak Government airplane was used in an international abduction from Slovak investigators, and not from those in Germany. I expect that they would responsibly reflect fundamental respect for our country and its citizens and will do everything necessary to faithfully investigate these suspicions and clear the name of the Slovak Republic. And that they would either convincingly explain all suspicions and contradictions, or punish those guilty if it were to be confirmed that Slovakia had provided a government plane for the abduction."
Photo Galery: