Kiska holds talks with Francois Hollande in France
22.11.2016, 17:12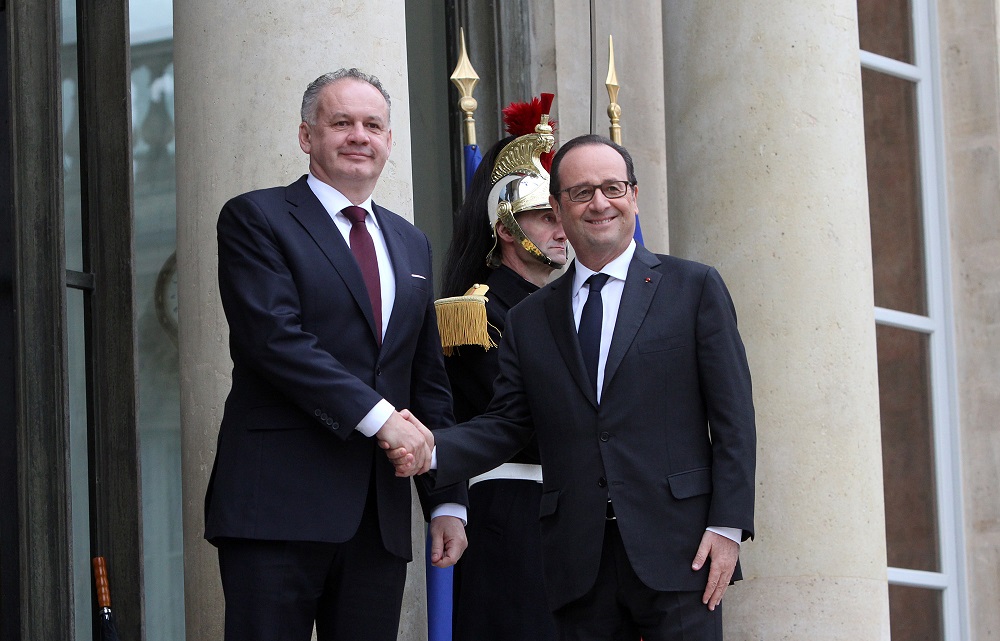 During his Tuesday official visit of France, President Andrej Kiska met President Francois Hollande. They discussed French and Slovak economic cooperation, the situation in the European Union and in the world.
Both presidents agreed that Europe needs to be given hope and enthusiasm. "The objective ahead of us is moving Europe forward and developing cooperation useful for all countries," Kiska said and added that the European Union was a solution to many problems disturbing us these days.
An agreement on education, language teaching, and cooperation of universities and academia was signed during the visit in the Élysée Palace.
The Slovak President also met Claude Bartolone, the Speaker of the National Assembly of the French Republic.
The visit included an economic dimension. Together with a group of entrepreneurs, Kiska paid a visit to the PSA Peugeot Citroën Research and Development Centre and held talks with the representatives of MEDEF, the French Employers Union.
In the meeting with the union of entrepreneurs, it was pointed out by Kiska that the quality of Slovak workforce was appreciated by international investors. As he added, along with quality, it is the creativity and motivation of our people which represent Slovakia´s huge economic potential.
President Kiska believes that Slovakia would make even more use of the opportunities made available by the European Union thanks to the potential of its young generation. "I will be pleased if this meeting would become an inspiration and contribute to experience sharing and the development of French and Slovak cooperation," he said.
President Andrej Kiska paid tribute to the victims of the 2015 terrorist attacks in France and placed a wreath at the statue of General Milan Rastislav Štefánik on the terrace of the Meudon observatory as well.
Photo Galery: