Kiska: Independent and professional journalism must be guarded
05.03.2019, 12:26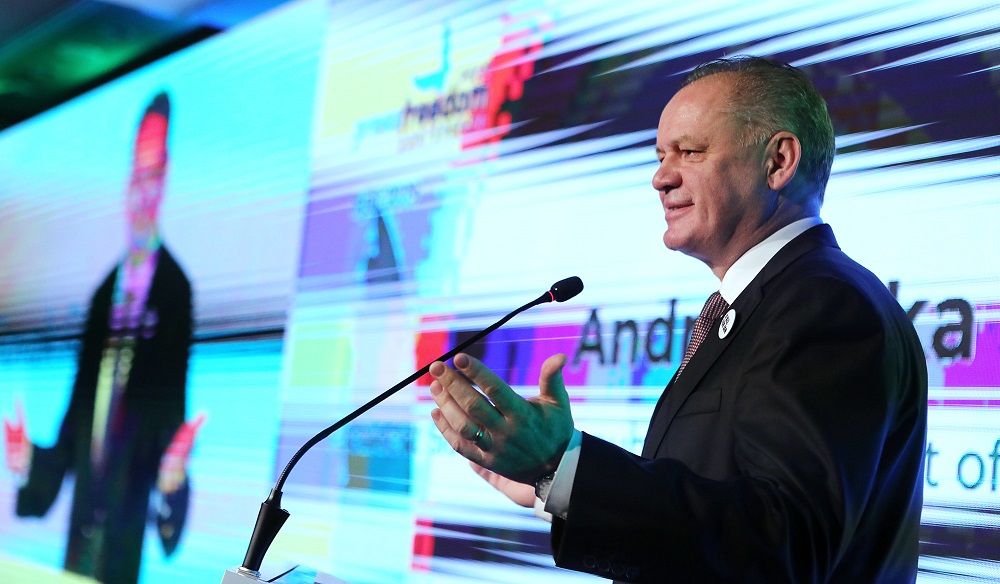 On Monday, President Andrej Kiska addressed the journalists at the Press Freedom Conference in Bratislava, marking one year after murder of journalist Ján Kuciak and his fiancé Martina Kušnírová.
"It's a great honor for me to open your conference today in Bratislava. I would like to warmly welcome all our friends from abroad in our beautiful Slovakia. I'm sure your time spent in our country will be meaningful and compelling — although the reason why we're all here today fills our hearts with grief. And will do so for many years to come.
A year ago Ján Kuciak and Martina Kušnírová were murdered and my country was changed forever. We are still not out of a deep crisis of trust in justice and fairness in our society. We need to overcome deep suspicion toward the ability of our public institution to provide basic safety, rule of law and equality before the law.
The murder of two young people and the events that followed forced us to take a long, hard look at ourselves. We were forced to ask directly how strong are values that we uphold to ourselves and others as the fundamental pillars of our state.
We passed the test. I believe that we have entered 2019 as a stronger and more resilient society. Thank to everyone who converted anxiety, anger and fear into a sincere effort to do better as a country. We grew up into a society that can face the worst truth about itself and respond with a healthy desire for change.
This would not happen without brave and caring citizens. And this would surely not happen without determined and hard-working Slovak journalists — without their commitment to truth, decency and freedom.
But I also use to say that democracy does not recognize a final victory or a final defeat. Democracy is a work. And we have a lot of work ahead of us. Not only in Slovakia, but all around the world. It horrifies me that 54 journalists were killed in 2018 alone. Just because they were doing their job to help people better understand the world we live in.
The enemies of free press are not gone and defeated. On contrary, they are getting bolder in many places, because of recent unrest and rise of antidemocratic sentiments in our societies. And this is also happening more or less in all traditional western democracies. In the countries we — in Central Europe — always thought of as almost perfect, when it comes to the power of free societies.
We face many uncertainties today. The rise of social networks has created unprecedented chaos in the way people consume information, news and opinions. The critical role of traditional media to serve as gate-keepers of information flows is dangerously weakened. To the advantage of rogue regimes and ruthless politicians riding the wave of disinformations, hoaxes or flat-out lies.
In this environment, it takes a great deal of effort to reinforce democratic principles and values. Those which we critically need to protect our way of life as open, modern and free societies. We do not have good answers to an awful lot of challenges we have to withstand. It's a tough job in any case. But it's an impossible job without strong and free press.
We need critical, independent and professional journalists more than ever. Because I'm pretty sure about one thing. No matter how complex the problems of our times are, professional first-rate journalism must always be a part of solution. There is no alternative to honest fact-checking. There is no better way to keep ruling politicians at the bay than free press surveillance. There is no magic invention against pervasiveness of disinformation besides good old professional newsroom.
That said, the most important task of us as public servants is to find a way how to create an environment where free press will thrive once again. In this regard we are in debt, in Slovakia or elsewhere.
Unfortunately, there are attempts to make things worse for the professional media. I'm not talking only about the verbal attack against journalists or efforts to break the trust of public in independent media. There is also a draft law to reintroduce a very broad right to answer for Slovak politicians to the Press Code. As a president I can promise that if such law passes our parliament I won't hesitate with my veto.
Independent and professional journalism must be guarded, because it's our first line of defense against the enemies of free societies. It's a peerless public service. Thus it must be protected, supported and even subsidized as a peerless public service. Thank you for your attention and I wish you very useful conference.
Photo Galery: