Kiska met with the head of Hyundai-Kia
12.04.2018, 09:06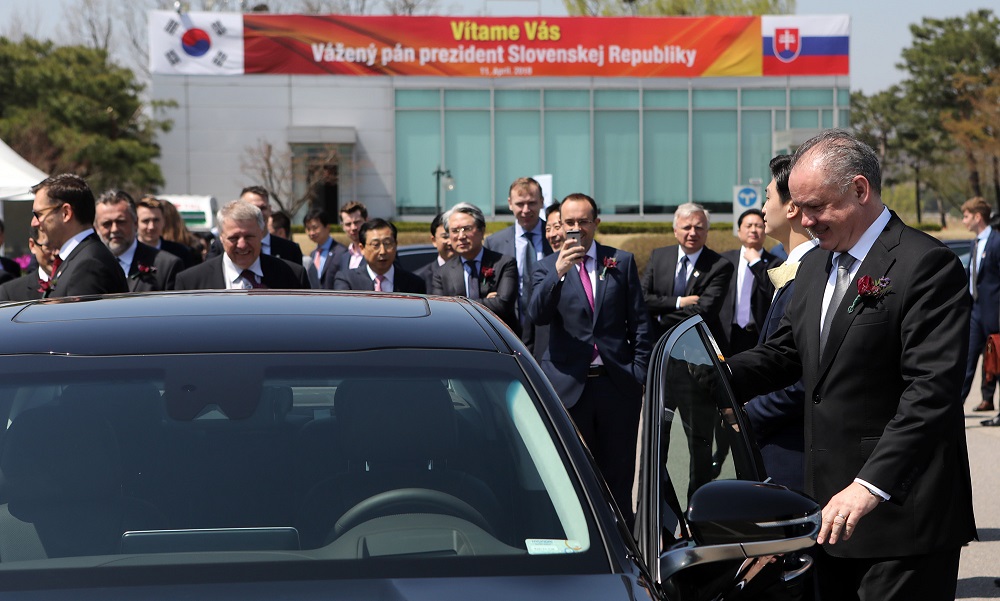 On the last day of his official visit to the Republic of Korea, Andrej Kiska began a program at the Hyundai-Kia automobile concern. He appreciated that out of the many factories they have in the world, their products produced in Slovakia are of the highest quality. But he also stressed that he would like to see the production area to be expanded of research and development in Slovakia.
"Kia is one of the world's top automotive manufacturers. We saw the innovation center, the center where new cars are being developed and prepared. We discussed much about what to do to not have just production, but also research in Slovakia. Kia is very happy with the factory in Slovakia. Out of the many factories around the world, the highest quality products are produced in Slovakia," the president said.

"We tried to take a ride; after four years I finally sat down for a while behind the wheel. We tried sports cars and electric cars," Kiska said, adding that he and corporate representatives discussed the future of cars. "The automotive industry is heading in the direction of reducing emissions and pollutants. Electric cars are the future."

President Andrej Kiska completed his official visit with a tour of the Pangyo Techno Valley Center for innovation and startups.

"The final stop of my program was to visit the Sillicon Valley of Korea. It is a location where new startups and new ideas are born, where thousands of young people with new ideas are found. South Korea supports young people in startups. Young people need to be told not to be afraid of failure. Failure is a part of success. It is these concerns that help young people. When registering companies, they have to get through the most difficult period of the first year to be successful. The truth is, it does not always work. But that is a part of it. When one project does not work, they try another."
Photo Galery: The Republic of Korea