Macron on the President: A symbol of a united Europe
24.07.2019, 00:00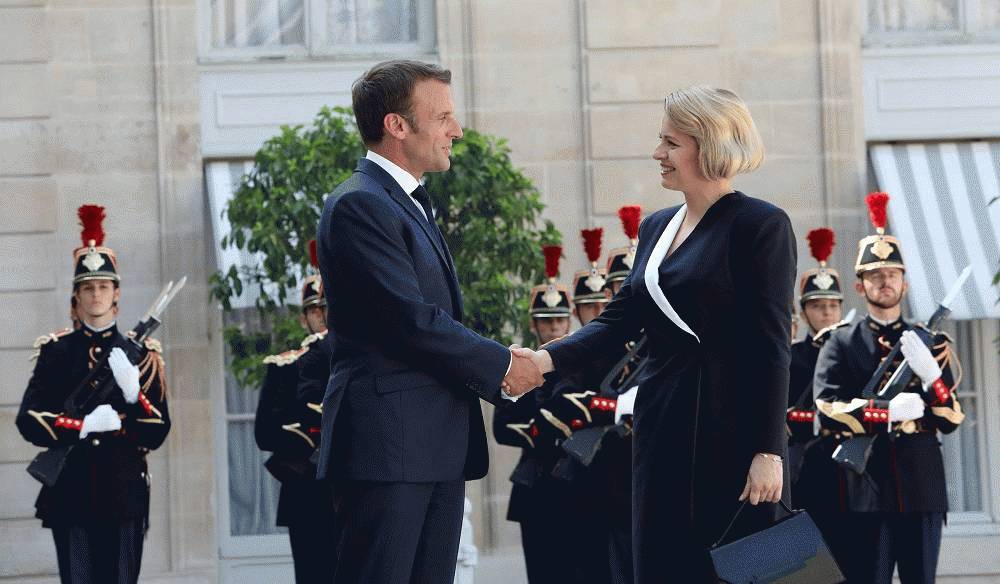 President of the Slovak Republic Zuzana Čaputová, who was received by French President Emmanuel Macron on Wednesday in Paris, described France as a close partner and ally in the European Union and NATO in a joint press release, stressing that countries share common values. Macron reiterated his statement from last year's visit to Bratislava that Slovakia is already at the heart of the EU, and this is reflected in the election of Čaputová as head of state.

Macron said that he fully agrees with Čaputová in the area of European integration. "Together we are committed that Europe takes its destiny into its own hands," declared Macron. "We are pleased that you care about the rule of law and all European values," he continued, calling Čaputová a symbol of a united Europe.

In her speech, Čaputová recalled the legacy of General Milan Rastislav Štefánik, who tragically died 100 years ago, and who set up historically good relations between both countries. She also drew attention to the fact that France was instrumental in the founding of Czechoslovakia.

"The legacy of General Štefánik is proof that deep internal patriotism does not stand in contradiction of a strong European identity and global thinking," Čaputová said. She stressed that she came to Paris to represent Slovakia as a country that strongly supports EU membership and integration.

She reiterated that Slovakia is the most integrated country in the region. "It is our interest that this integration further deepen and strengthen in respect for values such as freedom, democracy and the rule of law," Čaputová said. She added that the success of the European Union will also depend on the promotion of these values. Understanding between countries and mutual cooperation is particularly important in this regard, she stressed.

Despite the fact that the Slovak Republic and other Member States of the region have been EU members for 15 years now, in Čaputová's opinion there is still felt a division into East and West, as Macron also pointed out. She believes that in many regards these differences have been successfully eliminated. "But I feel that there is still room to move forward in mutual trust," she said.
As she emphasised, the Slovak Republic is not a new EU Member State, but a sovereign country that has a clear foreign policy direction. "We are also ready to build partnerships that extend beyond our geographic region," she declared, adding that the path for the EU is not one of rivalry between regional interests, but in seeking common solutions.

The task for the Slovak Republic is to strengthen its position in the eyes of EU partners by promoting the rule of law, democracy and civil liberties. Čaputová stated that for citizens of the Slovak Republic the EU is a symbol of many freedoms – the freedom to travel, study and work. However, in her words, the EU should also be a symbol of economic and social certainty. This concerns the introduction of a European minimum wage, pension security, protection in the case of job loss, or "fair taxation" for all entities operating in the European market.

According to the President, Slovakia is pushing for the completion and strengthening of the euro area, which "we see as a strong pillar for further European integration and a stable economic basis for further raising the standard of living".

Čaputová reminded that Slovakia recently, as the only V4 country, signed up to the commitment of carbon neutrality by 2050. Čaputová confirmed this commitment in the presence of Macron. As she informed the French president, Slovakia has committed to transforming its largest coal region and ending coal consumption in electricity production by 2023. The EU, though, should take this transformation into account in the next budget.

She continued, that in her view the EU should invest more in its own security. "For the Slovak Republic, NATO remains the basic pillar of our security, but at same time we also want a stronger European Union in areas where it can effectively complement this pillar," the Slovak President added.