New Year's Address by President Andrej Kiska
01.01.2019, 13:05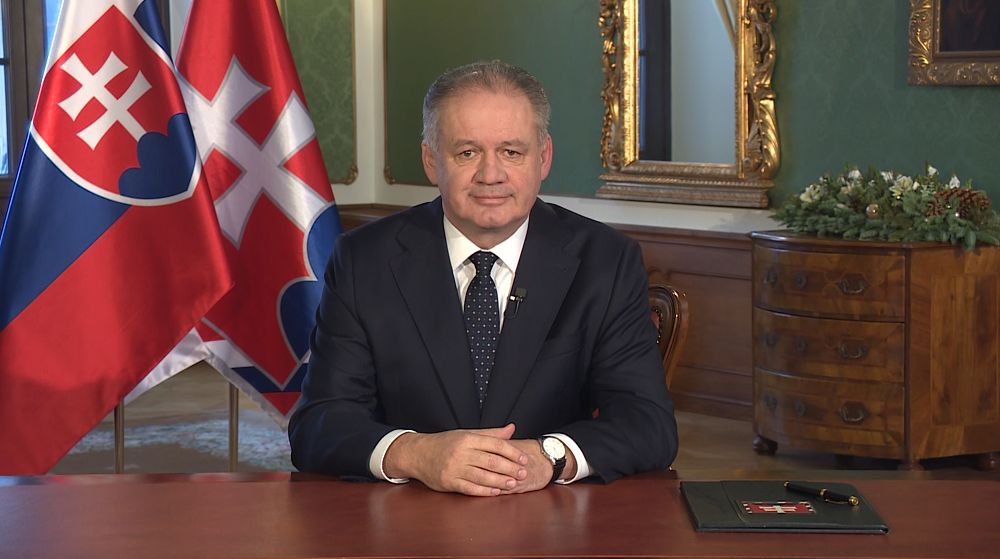 On 1 January 2019 President Andrej Kiska made a New Year's Address on RTVS.
"It has become an enjoyable tradition for me to speak to you as head of state on the first day of the new year. I wish you all the best – those who live in Slovakia, those who are fond of it, and people of Slovak descent all over the world. I wish the best for Slovakia – the country that I have had the honour to serve and which is today celebrating 26 years since its establishment.
This is the last time I will speak to you on New Year's Day as your president. I want to emphasise, once again and sincerely, how much I value the opportunity to spend at least a few minutes with you on this holiday. And to share with you a few thoughts that I consider important and perhaps even urgent.
I wish you a happy new year, with good health, love and understanding. I wish you a year full of success, happiness and comfort in your family and working life. I wish you the inspiration, courage and inner strength that you need to cope with all the challenges that you will face in 2019. I wish you good choices and fair decisions that will bring you happiness and satisfaction.


When I spoke to you last year, I thought that 2018 would be more than usual a time for looking back and reflection. I was anticipating a year of many major anniversaries. It should have been an opportunity to reflect on the meaning of the "8" years, which have played such an important role in our history. Whether for good or ill, these were years that shaped us into the state and the society that we are today.
In 2018, we planned to join with our friends in the Czech Republic in a dignified celebration of the utmost importance of the values of democracy and respect for human and civil rights, which we acquired a century ago with the joint establishment of the Czechoslovak Republic.
We planned to recall as a warning the seventieth 70th anniversary of the rise of a totalitarian regime that took away freedom and democracy for many decades. They were assisted by the tanks and soldiers of the Warsaw Pact armies that came here to crush people's hopes for a fairer society 50 years ago.
We expected to look back with deep respect to the courage of religious believers who stood up against the Communist regime at the Candle Demonstration 30 years ago. 2018 was also the 20th anniversary of the parliamentary elections when people rejected Mečiarism – a cynical attempt to exploit the independent Slovak Republic for the selfish accumulation of power and wealth.
All of that happened this year. But against a background of sorrow and anger. Because events took an unexpected turn. 2018 will be another of those "8" years that is a turning point in the history of the Slovak Republic. It was a year when it was not enough to remember and recall the symbolism of historic events and explain their meaning for our present and our future. The murder of Ján Kuciak and Martina Kušnírová changed a year of celebration and commemoration into a year that will be remembered as a year of struggle for decency and justice.
The murder of two young people and the events that followed forced us to take a long, hard look at ourselves. To look directly at the society that we live in. To look directly at the state that we are part of and that we are building. We can no longer duck our eyes and look away.
The situation required us – for the sake of our own conscience – to ask directly whether the Slovak Republic respects the values of democracy, equal rights and dignity for everyone. The values that we like to speak about when we recall the great moments of our history. The values that we uphold to ourselves and others as the fundamental pillars of our state. The glue that keeps our society together.
In 2018, we could no longer put off answering the question of how the political leaders of our country were cultivating and maintaining these values. Whether they were able to respect and protect them.
It has been a year when we could not avoid doubts about the sustainability of a society in which there was a deep lack of confidence in the state and its ability to ensure justice. We were confronted with doubts as to whether we could fight for a common cause. Whether we could agree on our common interest.
In 2018 we had to take off our rose-tinted glasses when writing about the success of our own country so that we could confront our disgust, mistrust and loss of hope for a better future.
How did we do in this test? It would be presumptuous to try to draw a definitive historical verdict. Nevertheless, I have my opinion. Yes, we passed the test. I believe that we are entering 2019 as a stronger and more resilient society. Thanks to you, thanks to everyone who converted anxiety, anger and fear into a sincere effort to do better as a country.
I am convinced that the people who came together – both in the squares and elsewhere – to express their wish for "decency and justice" are and will always be able to develop and protect freedom and democracy. In 2018 we grew up into a society that can take the worst truth about itself and respond with a healthy desire for change. And the courage to fight for it – decently, but with determination. It is a lesson learned by several powerful people who were once considered untouchable and who arrogantly assumed that they would be able to scoff at decency and justice forever.
Some of you may be shaking your heads at this point. You will be thinking of the unresolved challenges, problems, betrayals and injustices that the Slovak Republic has carried with it into 2019. Others will be naming politicians who have made a mockery of justice and decency for years. And who still believe that they can cling on to power or get back into office.
I have just one response to such arguments. Democracy does not recognise a final victory or a final defeat. The conflict between good and evil can never have an ultimate winner or loser. It goes on forever. That is one of the messages of those important "8" years. They alternate between the most glorious days and those that were the start of the greatest tragedies in our history.
This is also the message of the 30th anniversary of the most important event in modern Slovak history, which we will commemorate in November this year. In the Velvet Revolution we did away with a tyrannous regime that had trampled on our rights and freedoms for 40 long years. Thanks to the courage and combined efforts of many people and the ability to decide well at critical moments, we have become part of a modern, free and prospering Europe.
Does this mean we can slacken our efforts? No. When I say that we passed the test in 2018, I do not mean that we solved all our problems and eliminated all our trauma.
Democracy is a process. It is a tool that enables us to manage a wide range of affairs, to yoke together diverse interests and solve problems that affect us all. In 2018, we passed the test because we succeeded in defending the values that keep democracy strong. Showing our willingness to stand up for decency and justice made it more likely that things will change for the better.
We made it possible that one day we will be able to take pride in the shared successes of the Slovak Republic without having to add any serious "but".
Thanks to all of you who care about a decent Slovakia, we have set out on the difficult road to renewing confidence in the state, in its ability to guarantee justice and give a convincing answer to the problems that concern people in Slovakia.
In this effort it is important to find understanding and respect for people who look at the world differently than we do. To come together, despite differences of opinion, in the hope that a change for the better is possible. To be able to forgive while fighting for justice.
We are still faced with the great challenge of finding and presenting solutions so that a part of our society does not try to work out its anger or hopelessness through extreme solutions and a politics of contempt for democracy and freedom. This is a real danger that is often fed by hatred. We will face it in the upcoming presidential election and the election to the European Parliament.
I would like once again to encourage all those of you who care about our beautiful country to continue working for a decent and fair Slovakia. Do not let yourselves be discouraged by the fact that things do not change as fast we would like. Do not let yourself by disgusted by how slowly some politicians are learning the lessons of 2018. Democracy does not recognise a final victory or a final defeat. Democracy is a process. Democracy is work. In 2019, we will have a lot of work to do.
I wish you, your families, all those you care about and are close to good health and love, I wish you days filled with hope, joy and pride.
Happy New Year 2019!"