New Year´s Day Address of President Andrej Kiska
01.01.2017, 13:24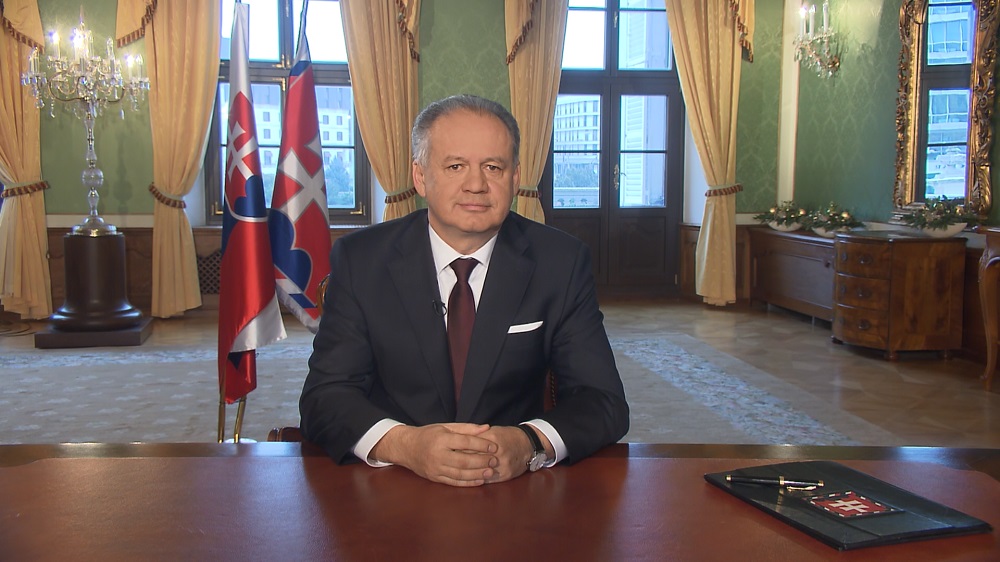 An agreeable holiday afternoon to you all, my compatriots,
It has become a tradition for the President to join well-wishers to express his thoughts and desires. In doing so, it is a great honour and a truly satisfying duty for me.
To those of you whose homes I am entering while you may still be enjoying your festive meals or – to those who may be in 24/7 service in hospitals, police departments, rescue teams, fire-fighting brigades, social care homes and elsewhere,
To all of you: please accept my most sincere New Year wish of love, understanding and friendship which make us human, which may even bring us through the most challenging moments, each of us individually and all of us jointly.
I wish you good health and inner strength for both everyday life and major challenges to be overcome by all of us. I wish you to keep your faith in humanity in all such moments of this New Year, the hope that you can manage and the trust in your love and that of your neighbours which you give and receive.
Please let us show love to those fellow citizens whose fortune has not been as kind as that of most of us. Because – at the end of the day – it is our ability to give away which brings the highest happiness and which remains after us as a footprint in this world, wherever we show it.
I wish you, your dear ones and your friends and all the people of the Slovak Republic good health and the strength to change things for better. I wish that to your families, to your communities and cities and to Slovakia – the home we share. And agree to make my congratulations to all of you on today´s public holiday – the anniversary of our independent Slovak Republic.
There is a tradition for the President to speak about the country in a New Year´s televised speech, to speak specifically about the biggest joys and greatest concerns for the nation, about the sources of the nation´s courage and of the nation´s possible distaste; whatever we have inherited from the preceding year both in and out of the country – whatever we will probably have to deal with in the New Year.
Today I am going to make an exception and will start from a slightly different approach. Because it is true that last year events were strong both in and out of the country. Virtually all the year. In fact, until the last days of it. The preceding year has fully re-opened the questions we will not be able to by-pass or explain away: we will have to give answers to them. At home, in Europe, in the world at large.
I want to speak about something which affects all of us, the future of the country we jointly manage and develop – our Slovakia. No matter which topic may come into discussion or may be decided upon.
Shortly before last year ended, a survey was published on young people´s behaviour online. The prevailing majority admitted to have encountered expressions of hate, insult and crudeness on the Internet. Over two thirds of them admitted to consider that this is a serious problem of society. When asked what they would do to counteract this, over 70 per cent replied: "I accept – I can´t do anything, there would be no point doing something anyway – I ignore it."
Each of us browsing the Internet and social networks has an understanding for that approach. Yet is it in fact an expression of? We are saying that a behaviour which most of us would not tolerate at home, at work, with friends, acquaintances or even strangers, in the public sector or in the street, a behaviour which the vast majority would hate to see in their children, is just brushed aside and we resign if the same thing appears on the Internet.
We are living precarious times. The feelings of certainty, stability and security seem to be vanishing. It is absolutely natural to be afraid of many things. Yet we must not allow the sense of fear to be overcome by rage and hate. It is absolutely natural and there are many reasons to be irritated by many events and things around us, by other people, by politicians. What we must not do, is express our indignation by aggression.
Should we fail to respect one another, then democracy, the society on its own and our ability of civic coexistence will fall apart. Let us hold one another and our different views in esteem. It is important to realise that all of us would lose unless we succeed in defending our shared borders and rules of culture in our coexistence. Sending people to gas chambers is simply unacceptable – even if online only. Invoking hate and malice toward entire groups of people, nations, ethnic groups, religions and claiming their inferiority must become inadmissible and intolerable for every respectable person. Including online. Wishing anyone (including a political opponent) death – even if just online – is simply inadmissible. Claiming that all Roma are parasites or all Muslims are potential terrorists is silly and wrong. We must not tolerate rage and malice to be spread in this or any other way. Because every malice and every misfortune which people are able to inflict upon one another starts by word. Word is of enormous power and there has been a word of hate at the beginning of all tragedies of mankind.
Our borders disappear unnoticed. Whatever was hidden in corners some ten or twenty years ago, has progressively moved to the Internet and social networks and from there, the way to real life is very short. Let us reverse that tendency. Let us re-draw more distinctive borders – and let us consequently maintain them. Let us assert that there is no fear behind being decent. Let us assert that being decent does not mean being weak. Decency must be given a hearing again. Let us show the power of being decent amongst ourselves, in everyday life, including the Internet and social media.
Because sowing the seeds of wrath among people is a sin.
And I want to ask you to apply the same requirements on politicians, too. I believe that animosity repeatedly encroached new borders last year. Where sensible arguments fail, more and more personal insults and doggery come into play. Let us not allow the imposition of a label of some political correctness on decency, humanity, tolerance and politeness. Trust, tolerance and wisdom will gain the upper hand only if our societal and political discussions are conducted in a tolerant and decent way, to the point, without blood in the eyes and tongues full of venom.
In a few days, exactly a year will have passed from the moment when all the country, and many of us personally, bade a moving farewell to Father Srholec: a singular man, rare across all generations and nations. I am coming back again to what he told me years ago when I asked him what our country needed most. How certain and convincing he looked when, smiling, he gave his single-word answer: culture.
That was truly visionary of him. He saw and felt that we were living the times again where the culture of the society, personal decency and humanistic values of each single of us would outweigh the differences in our political views – or the differences in religious matters or personal likes and preferences. I am sure that if we abide with that, we will never be wrong in any decision and will overcome any and all obstacles and difficulties.
Because the year ahead of us is important, a very important one. One may call it the year of truth revealing if we are able to speak about good intentions or are able to move things forward.
In economic terms, Slovakia is very well off at the beginning of this year 2017. The question is if we are able to make the best of Slovakia´s good standing and some of its results, in particular its economic growth and decreasing unemployment, for better public services and progressively for improved quality of life. Next year will be the year of truth because otherwise, the future will make us to take a look into a merciless mirror.
It will be an important year to show if the ambitious plan of our educational system reform will be launched. If both teachers and parents would support it. If the government would support it and if the politicians both in the government and in the opposition would back it. The plan prepared by our prominent experts is a good one – and I am its keen advocate. So to adapt, step by step, all our system of education to absolutely new times which have already started and which our children will have to cope with.
This year will be the year of truth: whether the current health minister and the government would be able to finalise the projects neglected over years by previous governments during their respective mandates. Whether we would be able to give names to all those changes which people are expecting to hear, namely: where, when and to what extent exactly the citizens are entitled – no matter where their home is – to good quality health care provided from their insurance policy.
It will be an important year to show if the only and main reply by the state to the problems of the socially fragile Roma fellow citizens would be repression only. Or demonstration of power. We need more rule and order in some places but we also need a plan to progressively guide in particular children from ignorance and poverty. There are sufficient small regional examples showing that somewhere things already work better. Now we have to transfer them into larger dimensions.
It will be an important year to show to a great extent if we are able to bring back reasons for more optimism to some of our regions where neither a new road would help and where a technology start-up would never come into being. Yet where people live: and we all do want those places to have good prospects. To make people want to live there.
It will be a year important for our security. Whether it will be possible to speak about plans and intentions only when the terrorists commit an attack somewhere or, if we would take security as our priority No. 1. Europe will have to contribute more to its own security – ourselves included. I would consider to ask all politicians frightening us this year by any kind of threat if and how they enforce the upgrading and genuine improvements of our security force.
It will be an important year, as the situation in this country in one area has been unsustainable for too long. Many people in Slovakia consider the unwillingness of the State to fight corruption and promote equality before law a major problem. A part of our country´s leaders pretend that all is right. I do not want to make any judgements. Yet I believe that this deep antagonism plus enormous political animosity and the resulting blaming are not sound. The relevant politicians should re-design responsibilities to unfetter this country. To unfetter the atmosphere of everyday life in this country.
This beginning year will be important for Europe and for the European Union presided by Slovakia over the last six months. I am glad to testify that we have managed the Presidency with honours and at a high level. Let us take note that even if the period was loaded with events and challenging topics, the Union´s debates were to the point and calm. That is the tone which suits both Slovakia and all of Europe – and may become a major contribution to restoring confidence. It may also contribute to making Europe stronger, more coherent, better prepared and safer.
My dear compatriots,
Even we in Slovakia can change the world for the better; by changing for better this country, our homeland. We can change this country by each of us carrying out his or her piece of an ordinary, well-done job and each of us caring for the country we live in.
I wish to beautiful Slovakia this year to keep guard of culture, to give decency a hearing and to manage to carry out that piece of an ordinary, well-done job. We are in the position to say in a year´s time that things have started changing for the better.
I wish you and your families good health and love.
Happy New Year 2017.