President Kiska held a New Year 's meeting with diplomats
13.01.2016, 15:06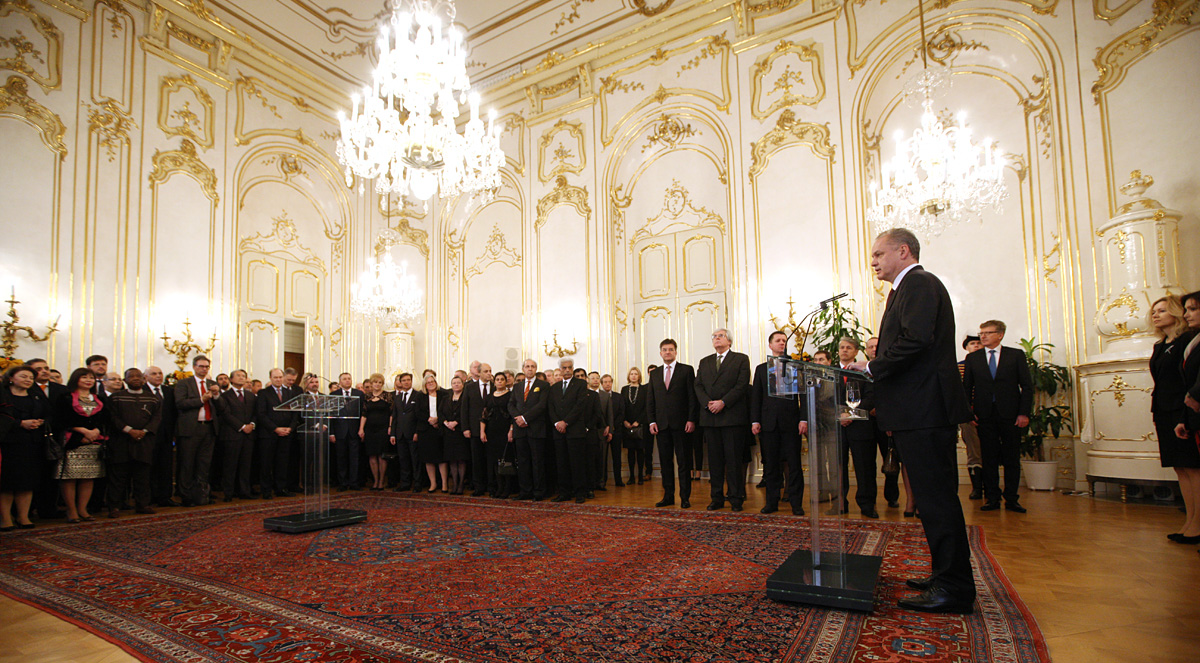 On the occasion of the New Year 's meeting, president Andrej Kiska addressed the members of diplomatic corps accredited in the Slovak Republic with speech on security, humanitarian aid and unity:
"Let me welcome you all here today. First of all, this is a great opportunity for me to express my appreciation of cooperation with the countries you represent in Slovakia and at the same time extend my best wishes for the New Year.
The terrorist attack killing and injuring innocent tourists in Istanbul yesterday is very sad news to start this year for all of us. Our thoughts and condolences to our partners and to the families of victims.
Looking back at the last year, I think it's appropriate to say we have learned — or maybe re-learned — important lessons the hard way. We were reminded how quickly local problems and conflicts become regional and global refugee crises when left unresolved. That there is no sea and no border too hard to cross for people in fear of their life and longing for human dignity. Especially we, Europeans, were compelled to realize that humanitarian tragedies are not TV news from far away, but they can happen and they are happening at our doorsteps.
In the European Union, we have found ourselves in yet another crisis testing our unity, the strength and foundations of our European project. It has tested how good people we are; whether we can live up to our ideals; whether we truly believe in humanity and in helping those in need. Despite the turbulent developments, different political positions and tensions, Europe has managed to carry on so far. Honest to say, we can always do better. I am sure everybody is aware of the fact, we either make it together or we fail alone one by one.
The year of 2015 will be sadly remembered here in Europe by the horrific acts of terror in Paris. They were not only attacks against France and its people. But attacks on each and every one of us who believe in freedom and democracy. We were once more reminded how fragile our sense of security is. How important the true political leadership and courage are to act, to explain and to calm down the public in the middle of heated political debates. And last but not least we have painfully learned that extremism, xenophobia, religious or ethnic hatred are not fading chapters of the history of Europe, but they are clear and present challenges we have to face. Because these dangers go far beyond terrorism.
We need more resolve and unity in eliminating the fanatics of Daesh and others. Common goals have to prevail over side interests and depraved strategic ambitions of some individual states.
Last year we also witnessed the continuation of many conflicts and flagrant violations of international norms. We must keep clear that such behaviour will never find understanding among us. Be it in our close neighbourhood or far beyond our borders. For Slovakia, the independence, territorial integrity and sovereignty of Ukraine will naturally remain on the top of the list. We hope this year will bring a real progress in fulfilling the Minsk agreements.
However, the last year was not only about hard lessons. In Paris the whole world agreed we must care more about our planet and its peoples. It is an optimistic sign we all can reach an agreement when the stakes are high. In the same way we can see a successful fight against Ebola in Africa. We need to continue on this path to succeed in fighting poverty and inhuman living conditions for millions starving on this planet. We should hope for a respectable result from the first-ever World Humanitarian Summit to take place this year in Istanbul. The calls of the United Nations and the Secretary General Ban Ki-moon, whom I had the honour to welcome in Slovakia last year, should be listened to.
Ladies and Gentlemen,
I am privileged to be the President of a successful country. Young and bright but still gathering experience. In foreign visits I make or welcome to Slovakia I look for inspiration and for the best practices to learn — be it in education, health care, innovation, or e-governance. I will continue to do so also with your help.
In less than six months Slovakia will for the first time lead the Council of the European Union. The biggest challenge, but the most important one, should be to strengthen the confidence of Europeans we can cope with current problems efficiently and in the spirit of solidarity and mutual trust. Be it economy, security or even better protection of our borders.
Excellencies, Ladies and Gentlemen,
A good man, true European, my dear friend father Srholec, who recently passed away, used to say: no one knows today what will happen tomorrow, but it should be clear how we will respond. If we have our compass — the values we believe in, we will not get lost in the unexpected. Because our values are the ones to tell our friends what to expect from us. And what we can expect from our friends and allies. After all our success begins and ends with trust.
I wish to all of you personally, to your families and to your people peaceful, successful and prosperous year 2016."