President Kiska awarded honours to 25 personalities
01.01.2018, 19:46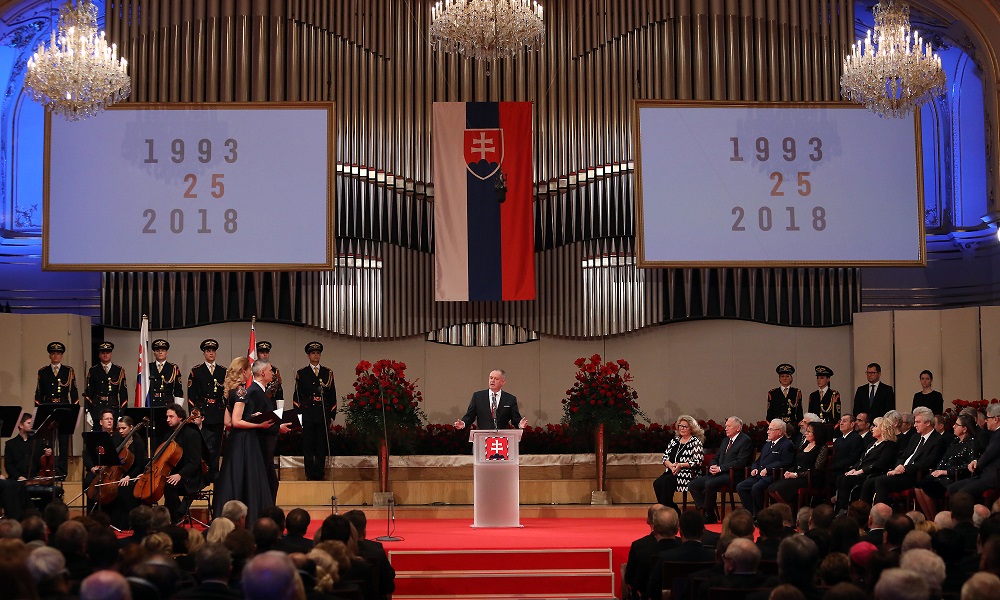 On Monday, 1 January 2018, on the occasion of the 25th anniversary of the Slovak Republic, President Andrej Kiska awarded honours to 25 personalities.
"It is an especially great honor for me to award the exceptional people for their exceptional lifetime contribution to our country today, when the Slovak Republic celebrates the 25th anniversary of its establishment.
Also thanks to you, this anniversary of the existence of free democratic Slovakia can be a celebration of professionalism and extraordinary talent, a demonstration of strong personal examples and role models for all of us.
Thanks to you, we can proudly remind ourselves today that even in the worst and saddest times of our modern history, there have been heroes with the courage to face evil, people capable of good acts and selflessly helping others.
I am proud to have had the opportunity to represent the Slovak Republic at this festive event and to present to you the highest state awards on behalf of its citizens.
We have come here today to celebrate and appreciate your work, the results of your work, which brings us happiness at home and out in the world. But for the fourth time, with great respect, I am using the beginning of the New Year also as an opportunity to show where we can seek the true roots of our country's success without having to beautify them with strong words.
My intention is to emphasize the significance of sharing common civic values, promoting creativity and freedom of the spirit, an openness to new ideas, respect for an honest discussion on our present, and understanding the truth about our past.
The selection of the awarded, exceptional personal and human qualities of these women and men are a rare opportunity to show what truly and permanently enriches our society; what strengthens our cohesion, what brings together diverse individuals into strong communities; what encourages the healthy and sustainable development of our country; what increases its endurance and culture. Thanks to all this our life in the Slovak Republic is better, more beautiful and more valuable.
In the New Year's Address this afternoon I said that the 25-year story of the Slovak Republic was neither perfect nor straightforward, nor simple. But I emphasized that this has always been a strong story. It's still a strong story. And I believe it will be the strong story of a successful country. This is because it consists of a number of precious daily personal stories of conscientious work, a patient effort for a better life, mutual help and solidarity, as well as the overcoming of big obstacles. But it also consists of stories of extraordinary talent of giving joy to others; unique acts that enrich our entire society. Stories of great courage that inspire the next generation.
Today, as the President of the Slovak Republic, I have the opportunity to award 25 such exceptional life stories.
We still award the people who fought against fascism during World War II, as well as those who opposed the totalitarian communist regime. People who fought for our future and freedom at the risk of their future being threatened and losing their freedom. We award them with gratitude for what they have done for us. And also to remember how precious and fragile our free and peaceful life is; how much courage, sacrifice, and suffering are needed to defeat evil.
But today we also award outstanding artists. Their work brings joy to our lives, along with emotional experience, the pleasure of beauty and cleverness of which human wisdom is capable.
I am honored to award curiosity and passion for discovering new things, phenomena and connections; the efforts to broaden our knowledge through scientific methods that honor the truth, support creativity in finding new solutions and a hunger for new knowledge. Today, as the President of the Slovak Republic, I am rewarding the exceptional individual scientific results with awards. But as a society we must not forget that our ability to discover the unknown depends on what kind of education our children receive.
We also award the daily heroism of people who have decided to dedicate their lives to helping others. Solidarity toward weak and sick people who cannot solve their problems on their own is not just a manifestation of individual empathy and love for our neighbors. It is the basic condition for the good functioning of any society that aspires to protect human dignity and change the lives of every person for the better.
Ladies, gentlemen,
Thank you on behalf of all the citizens of the Slovak Republic, whom I represent today as President. Thank you for the joy you bring us. For the pride we can feel for you. For the knowledge you bring to us. For the inspiration that for us are your exceptional acts and extraordinary life stories."
| NAME | HONOUR |
| --- | --- |
| Gabriela Beňačová | Order of the White Double Cross II. class |
| Pavel Povinec | Pribina Cross I. class |
| Otto Šimko | Ľudovít Štúr Order II. class |
| Marta Kubišová | Order of the White Double Cross II. class |
| Rudolf Sloboda [in memoriam] | Pribina Cross I. class |
| Myrón Malý | Pribina Cross I. class |
| Fedor Gál | Ľudovít Štúr Order I. class |
| Marta Ličková | Ľudovít Štúr Order II. class |
| Marián Čaučík | Pribina Cross II. class |
| Ján Lazorík [in memoriam] | Pribina Cross II. class |
| Juraj Flamik | Ľudovít Štúr Order II. class |
| Mikuláš Huba | Ľudovít Štúr Order I. class |
| Ilja Zeljenka [in memoriam] | Ľudovít Štúr Order I. class |
| Eva Kováčová | Pribina Cross II. class |
| Vladimír Ješina | Order of the White Double Cross II. class |
| László Szigeti | Ľudovít Štúr Order I. class |
| Robert Mistrík | Pribina Cross I. class |
| Alta Vášová | Ľudovít Štúr Order II. class |
| Petr Pithart | Order of the White Double Cross II. class |
| Martin Milan Šimečka | Ľudovít Štúr Order I. class |
| Peter Breiner | Ľudovít Štúr Order I. class |
| Zuzana Kronerová | Ľudovít Štúr Order I. class |
| Jozef Kroner [in memoriam] | Pribina Cross I. class |
| Marika Gombitová | Pribina Cross I. class |
| Alexander Bröstl | Ľudovít Štúr Order I. class |
Photo Galery: