On his farewell visit to Austria, Kiska met with Van der Bellen
21.03.2019, 17:03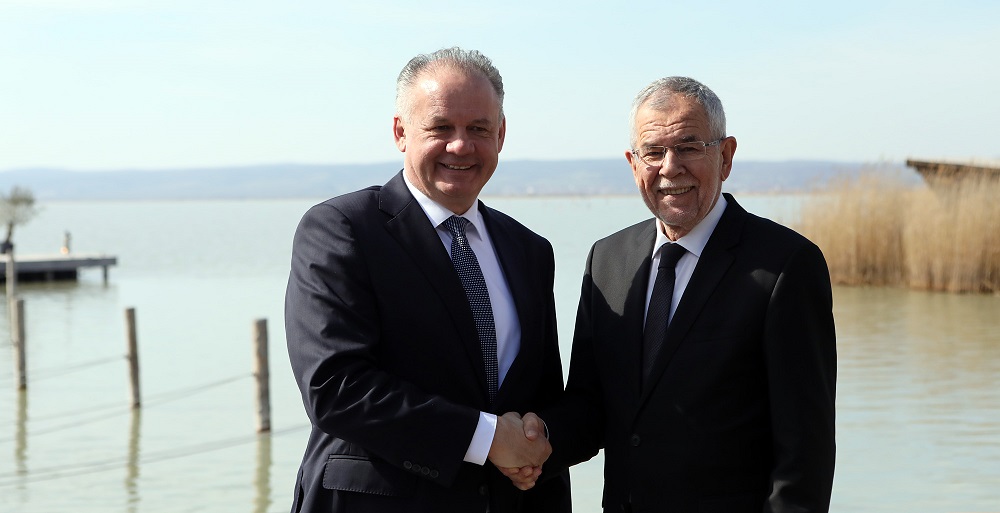 On Thursday, Andrej Kiska met with President Alexander Van der Bellen of Austria at the village of Weiden am See by Lake Neusiedl. The two heads of state had an informal lunch together and gave each other the highest state honours as an expression of their appreciation for the development of close, friendly relations between their neighbouring countries.
The Austrian president noted that although Bratislava and Vienna did not always share the same view on everything, an example being the Slovak nuclear power plants at Mochovce and Jaslovské Bohunice, he believed that the countries always managed to find a "common language" and would do so on the nuclear issue too. Overall, he considered Slovak–Austrian relations to be "excellent".
Regarding the Slovak president himself, he said that he felt that they had respected and understood each other from the first moment that they met and that they were united by their "vision of a common European future within the European Union." President Van der Bellen also said that he hoped to have an opportunity to meet with President Kiska after he left office.
The Slovak president began by saying how glad he was to come and say his farewells to a friendly country. With reference to the good relations between the two countries, he highlighted their positive economic effect on Slovakia, mentioning that around 2,000 Austrian firms were investing in Slovakia and had created "more than 45,000 jobs" there.
Kiska went on to say that he and his Austrian counterpart had also talked about the future of Europe and the European Union, which both considered to be a "wonderful project".
With reference to the ongoing presidential elections in Slovakia, President Kiska said, "I also assured the president that whoever succeeded me as president would be pro-European, a good politician, and that I was very glad that our country had once again shown that we wanted a decent Slovakia and that we had not voted an extremist through to the second round."
President Kiska also admitted the existence of problematic issues in the relations between the two countries. As an example, he cited Vienna's recent decision to reduce child benefits for Slovaks working in Austria and living in Slovakia, which he himself "did not consider to be fair".
He ended his speech with the statement that the overall relations of the two countries were on such a high level that "there will soon be nothing left to improve," and that it would be better if politicians "tinkered with relations as little as possible so that they stay at that high level."
The visit to Austria was part of a series of farewell visits that the Slovak president is making before he leaves office in June this year.
Photo Galery: