President visited South Korea to talk about economic relations
10.04.2018, 11:57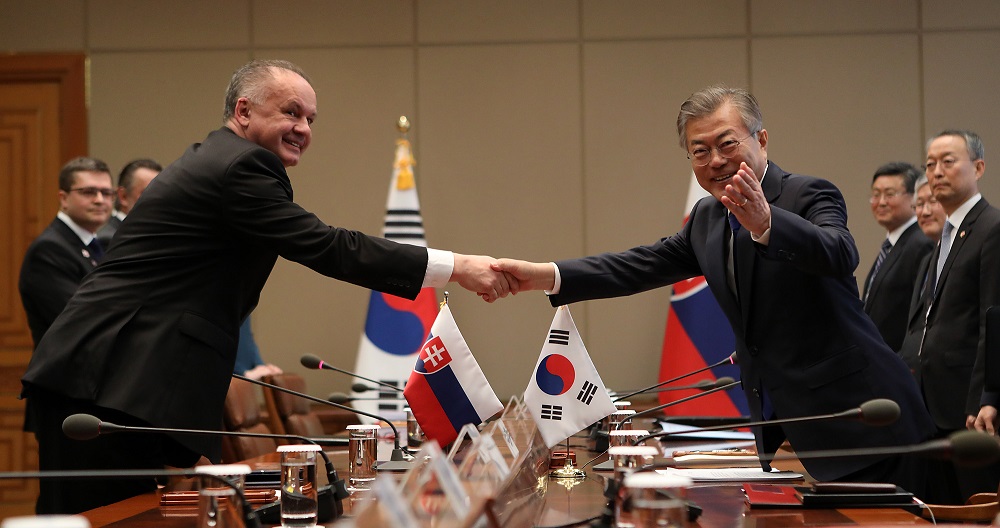 President Andrej Kiska arrived for an official visit to the Republic of Korea. This is the first official visit of the Slovak head of state in this Asian country, which is one of the most important non-European economic partners of Slovakia.
"We may not even be aware of the fact that South Korea is an extremely important partner for us. More than fifty percent of investments from outside European countries came from South Korea. More than two and a half billion euros have been invested and more than a hundred companies have created thousands of jobs.
In South Korea, Slovakia is perceived as a very successful country, too, and as a country that South Korea can rely on. Fifty years ago, South Korea was one of the poorest countries in the world. Today it is among the eleven most advanced economies in the world. We have discussed how this can be achieved. I do not think I will surprise anyone with the fact that the answers are clear. It is an investment in education, in young people, in innovation.
I also touched on North- South Korea relations with the president. We both agreed that dialogue is extremely necessary and beneficial. No intimidation, but dialogue and the search for peaceful solutions.
Samsung is among the absolute leaders in innovation and technology, and I am very glad that this company has a factory in our country. We have talked much about what direction the world will take. I have expressed great interest in Samsung investing in our country, as well as investing more in terms of research; in order to create projects that bring greater added value to our country. In this building, we have seen the future of the world as it will look in ten years - how our households will be monitored, how our health will be monitored, how we live, and I am happy that Samsung is in our country."
Photo Galery: The Republic of Korea