The President on Innovations: A visit to Norway has opened new possibilities
06.06.2018, 09:37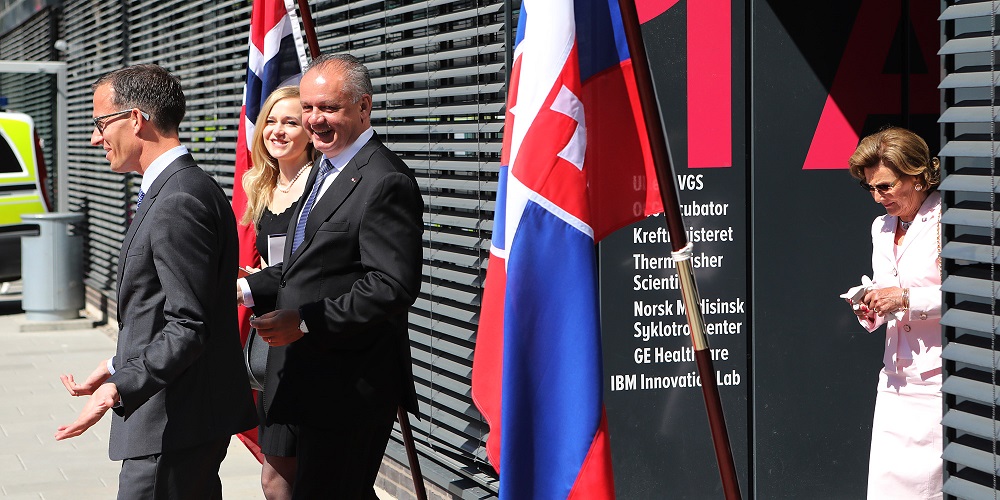 On the second day of the official visit to Norway, President Andrej Kiska visited the Oslo Cancer Cluster, the world-leading cancer research centre and the company Wilhelmsen, which has the Timm Slovakia plant for mooring lines in Slovakia.

The President appreciated that Norway can be an inspiration for science, research and innovation for Slovakia. He is persuaded that an official visit to Norway helped open the door to several opportunities.

"I am convinced that we have opened the door to many projects that can be beneficial to Slovakia. Norway thinks a lot about the future, investing a lot of money in education, health as well as the environment. They do everything they can, so that the trust in the state works. In this, Norway could be a great inspiration for us," said Andrej Kiska.

The President praised the achievements in the field of cancer treatment, which the Oslo Cancer Cluster has achieved. "I was very glad for the offer of cooperation in this area just for us. I think we opened a door, and I believe that businesspeople or people from the Slovak Academy of Sciences will use the immense possibilities offered by this path."

Wilhelmsen, which has the Timm Slovakia plant for the production of mooring lines, employs 93 people in Slovakia. "I was very happy today when the company confirmed that they are very satisfied with the operation of this plant in Slovakia and are planning to expand it. The research itself is being performed in Slovakia, so I'm very glad that Slovakia is not just a manufactory and it is fulfilling what we are still calling for, and that is research and working with a higher added value," said the President.

On the last day, President Andrej Kiska, along with King Harald V and Queen Sonja, also watched the actors from the Slovak National Theatre, who were working on the play by the well-known Norwegian playwright Bjørnstjern Bjørnson, called Above Our Forces. The President then travelled to Bergen.
Photo Galery: Norway