Kiska before the EU summit: Let's concentrate on what brings us together
15.09.2016, 20:37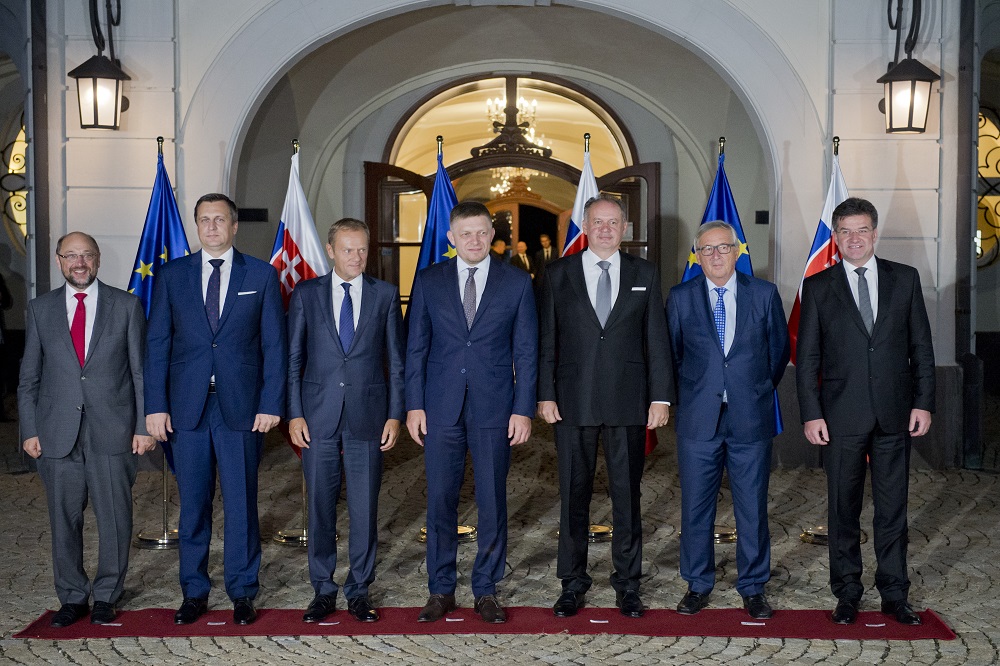 On the eve of the informal European Union summit in Bratislava, President Andrej Kiska, Speaker of the National Council Andrej Danko, Prime Minister Robert Fico and Foreign Minister Miroslav Lajčák met the EU representatives in the Office of the Slovak Government.
European Council President Donald Tusk, the European Commission President Jean-Claude Juncker and the European Parliament President Martin Schulz accepted the invitation to a working dinner.
Slovak President´s statement:
"Yesterday (Thursday), we had a working dinner with the top European Union´s representatives. The reason was obvious. Today, an unscheduled but very much anticipated informal EU summit started in Slovakia.
I underlined in our talks that this was the time for us to concentrate on what brings us together and to beware of any and all proposals and solutions which might raise negative emotions amongst the people in any country. Let's establish clear points and a clear time schedule in the areas which bring us together. Like, for instance, security and the protection and control of the Schengen borders.
The atmosphere in the EU is highly peculiar. Some may feel the European project is suspended over a genuine abyss. Discussions of the European project reveal a lot of criticism, a lot of pessimism and sometimes even panic upon the people of Great Britain´s decision to exit the EU. Words of kindness about the Union have been forgotten and Brussels has become a target of derision. All that notwithstanding, the reality and the results of the European cooperation are much better than that mood indicates.
Definitely, there are difficulties – there are difficulties in every county and therefore, every county may have slightly different expectations as to where the Union could be more helpful. Yet I believe that today the crisis is largely about confidence and self-confidence. As a matter of fact, confidence and especially self-confidence are oftentimes much more important than agreements in writing.
I believe that there is no magic formula for overcoming this period and restoring confidence. But we may start working to attain one.
It would be incredible to have put an end to the emotional split of Europe through this Bratislava summit, to make people all over Europe hear from Bratislava that the ditches have be backfilled and the abysses bridged over – to see Europe send out a clear signal of unity and a common future. There are some issues that have split Europe up emotionally – particularly migration.
The most essential item I pointed out yesterday is empathy. Mutual understanding and communication. Self-discipline – from EU institutions up to the leaders of any single country is called for – so that we will not take one another by surprise on sensitive issues.
My wish is to get started on the restoration of confidence in the EU at the Bratislava summit. Our common Europe is worth it."