The Presidents of the B9 countries discussed security in Košice
28.02.2019, 19:39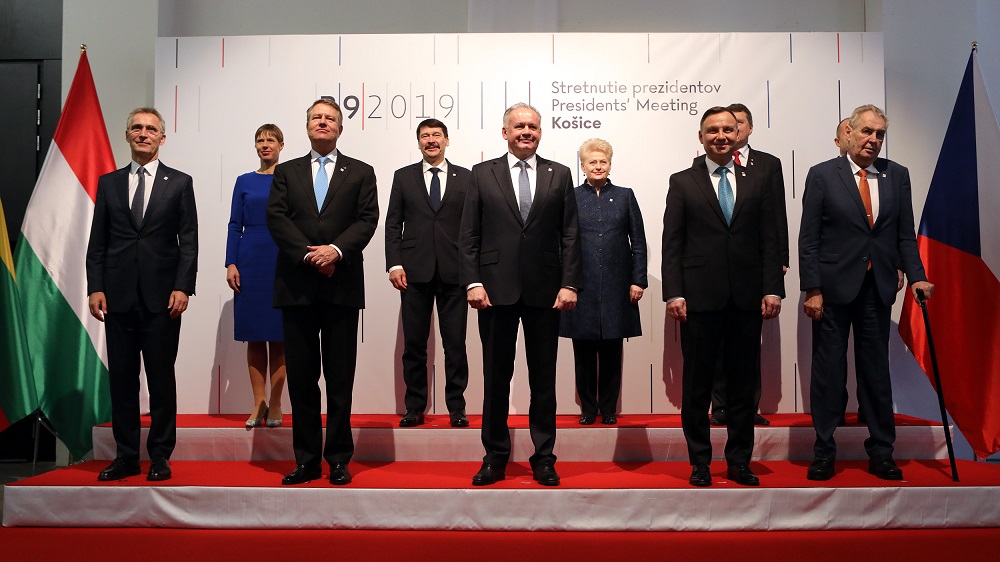 In Košice on Thursday, President Andrej Kiska hosted a meeting of the presidents of the other Bucharest Nine countries (Bulgaria, Czechia, Estonia, Hungary, Latvia, Lithuania, Poland and Romania) and the Secretary General of NATO, Jens Stoltenberg.
The participants in the meeting issued a joint declaration whose text is attached below.
"Today Košice became the centre of Central Europe, extending a warm welcome to the presidents of nine countries representing a population of nearly 100 million people. It was also my great pleasure to welcome the Secretary General of NATO to Košice.
In such meetings, we are not just colleagues but above all allies and friends. It is not our first meeting in this format, and I am pleased to note that after a longer period, we once again have a meeting where we are all present. The basic function of the state and ourselves as politicians is to safeguard the security of our citizens and to make sure that investments in defence serve a purpose. They must make our citizens feel more secure. Today we are meeting to continue our discussion of what we see as our biggest security problems. We want to emphasise how seriously we take the threats that we face individually or as a group – mainly those from the east, wouldn't you agree – but also the threats that come with progress, new technologies or the misuse of information.
Our positions and opinions are set out in the joint declaration that we have adopted today. This year offers several reasons for meeting. Just like Slovakia, all the Bucharest Nine countries are commemorating the 15th or 20th anniversary of their accession to NATO. We are also commemorating the 70th anniversary of NATO's establishment. These anniversaries made today's meeting a good occasion to speak not just about our security but also about what membership and alliance mean for us and for our citizens.
Defence and security are not ends in themselves. Today we are doing well, prospering, living in peace and our citizens are free to develop as they wish. This is all because of the decisions we made about where we want to belong and what our values are. This decision expresses our courage to live freely and democratically and to take our future into our own hands. Today, and this is something important to bear in mind, even the largest country cannot stand alone against challenges like security, migration, terrorism or economic crisis. Our countries are not alone. We are members of the EU and NATO. We have allies and friends.
The alliance has been a major factor in our success. It is no accident that NATO members are successful countries. This is not because they were successful when they joined, but in fact they became successful because they joined. Investments flowed to us because investors could feel secure in our countries. When we talk about security and defence, we are talking about confidence. Citizen's confidence in our politicians, that we will be able to safeguard security. And also confidence in one another, that each of us will do everything to contribute to our common security. That if it is one day necessary, help will come, that soldiers from our country will defend our citizens and the citizens of other countries equally. That soldiers from other countries will come and defend us when we are in need. This is the strongest guarantee that we can give to our citizens. It is true that our absolute priority is to ensure the effectiveness of our collective defence. To deter any aggressor. To respond to dangers faster and in a more coordinated manner. To ensure our forces are better equipped and well-prepared. To meet our commitments. Not because anybody told us to. But because we want to give our citizens the feeling of real security. We have also discussed developments outside our borders. About the situation in Ukraine, about the activities of Russia. Furthermore, about how dangerous it is when the rules of peace are violated, when the security situation deteriorates and the treaties that have upheld our security are revoked. But also, how to respond when confrontations and shows of force replace dialogue.
Maybe citizens in this part of Europe do not feel the threat so intensely but what I have heard from our colleagues in the Baltic States, in Romania, Poland and Bulgaria is that their citizens have real concerns. They see what is happening in Ukraine and on their borders, in the Black Sea and in the Baltic. They appreciate that we contribute to their security as allies. And this is precisely why we need to send the world the message that we are united and that we are able to help each other.
We all agreed that the military threats are serious but that is not all that we are facing today. For example, we need to be very careful with the new technologies that are becoming available: who gets their hand on them, who has access to them and what risks they could lead to.
We are now faced with lies, malicious half-truths and the spread of disinformation. Their aim is to undermine the foundations of our success, our security and our stability. They also influence our ability to take our own, sovereign decisions. Together with the experts that we invited to our meeting, we agreed that these are not isolated incidents, but deliberate steps aimed at all our countries.
The result of these activities is that voices seem to have sprung up all at once claiming that we are not the west or the east but that we should be something in the middle, like a bridge that brings two sides together. The truth is, however, that how we are today is the result of own to decision to join those countries that are democratic, prospering and free. This shows that it was the right decision. That is also why we must strictly reject any party that calls for a change in our orientation. You can hear voices in our countries that call for us to withdraw from NATO or withdraw from the EU. They have one and the same aim – to harm our citizens."
B9 deklarácia by Kancelária prezidenta SR on Scribd
Photo Galery: