Statement of the president on her meeting with representatives of the police and prosecutors
18.10.2019, 00:00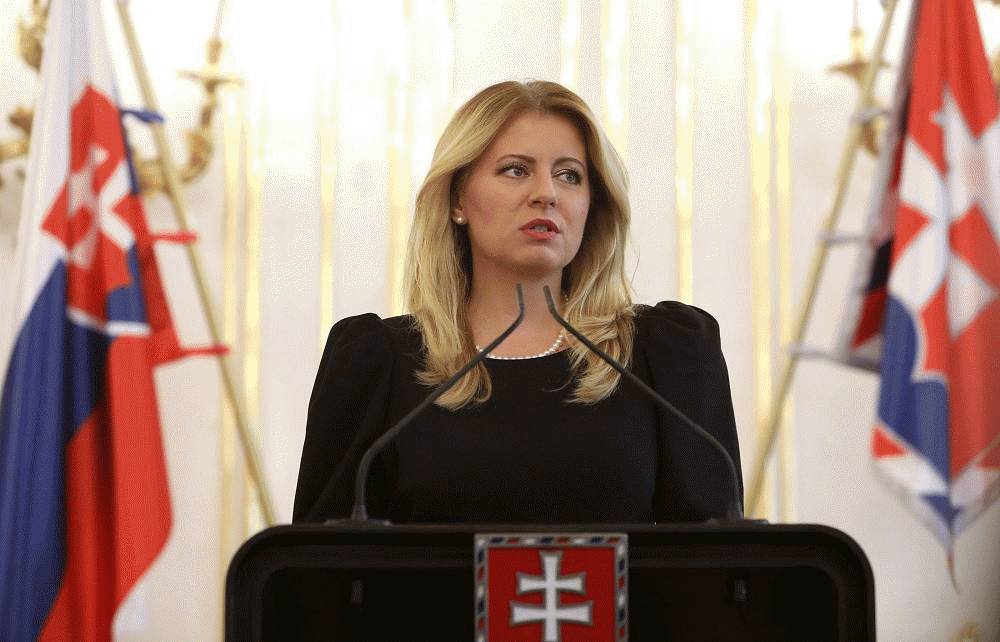 President Zuzana Čaputová issued a statement on current events today after meeting with the minister of interior Minister Denisa Saková, the president of the Police Force Milan Lučanský and the first deputy to the prosecutor general Viera Kováčiková.
Ladies and gentlemen,
the things I have learned from the media in recent days go far beyond what I could have imagined. Anyone who followed public affairs must have had the suspicion that our country had problems with corruption, the exercising of rights and abuse of power. Even so, I'm sure I am not the only one surprised by the specific contours of this behaviour, the arrogance of the actors in such communication and their cynicism.
What are we up against?
The Gorilla case has been under investigation for seven years, which means that most of the crimes are statute-barred. Their suspected perpetrators have remained in their professions. The communication between an entrepreneur and a judge suggests widespread corruption in our justice system. There has been no visible progress in this case; the judges and the prosecutor are still exercising their function. Communication about corrupt practices between an entrepreneur accused of crimes and a former prosecutor general – this case has gone several months without charges being brought. In fact, the prosecutor is still working as a prosecutor.

It is impossible to overlook the links between these cases and the death of Ján Kuciak and Martina Kušnírová. These are precisely the sort of cases that Ján Kuciak gave his life to. He covered these cases, knowing that top figures in the legal system were collaborating in crime, covering it up and apparently being well-rewarded for such injustices. The blood of these two young people is on the hands of more people than just the man who ordered their murder and the killers. There is a moral responsibility that rests on all those who facilitated and tolerated a climate in which justice was perverted.

Dear citizens,we are overwhelmed with information about the abuse of power, and yet we hear little about how such acts are being investigated and prosecuted. Such information asymmetry may cause you, dear citizens, frustration.
I therefore decided to collect as much information as it is permissible for me to receive on these recent developments. After yesterday's talks with police president Milan Lučanský, deputy prosecutor general Viera Kováčiková and interior minister Denisa Saková, I can say for myself that both the police and the prosecution are well aware of the seriousness of the current situation and are working to show results to the public. The police and prosecutors that I met yesterday have my confidence for now.
My position enables me to ask the responsible authorities about matters that look dubious to me and to form an opinion based on the information they provide. The public do not have such opportunities, even though they are equally entitled to satisfy themselves that justice is being done in serious cases. I therefore asked the police president and the deputy prosecutor general to provide the public with as much information on their actions as the cases permit. This would free us from the feeling that the police and prosecutors never act until the media and public opinion push them to it. I think we can all agree that the public need to be better informed.
Dear citizens,
as president, I feel obliged to speak out when I see injustice, abuse of power or competent authorities neglecting their duties. I also see it as my duty to highlight good news and calm the situation when necessary. In my speeches, I always remind the public that we must not over-generalise and condemn all the judges, prosecutors and police officers because of those who have strayed from the path. When we call for justice, we ourselves must treat everyone justly. The majority of judges, prosecutors and police officers still care about their reputation and the good name of their profession; most of them want to serve justice.
Dear citizens,
the investigators and the supervising prosecutors in the cases involving judges and the former prosecutor general are still entitled to expect our confidence. My current confidence and the time needed to get results are not unlimited, however. As soon as I believe I have been mistaken, I will tell you about it just as openly. And I will use every opportunity to make a difference. Slovakia cannot afford another case like "Gorilla", where the investigation goes on for years and years without a result.
To be fair in my assessment, I still need to say a little more about the Gorilla case. While I felt that the handling of the other cases and the statements of their supervising prosecutors reflected their urgency and importance for society, the public statements and behaviour of the prosecutor supervising the Gorilla case did not give me such an impression. I am convinced that in such a serious case as this, which five governments have failed to bring a conclusion and where we have several times had reason to expect significant movement, the supervising prosecutor should not be someone who gives cause for suspicion about their intentions and personal integrity, and it should be someone with results that entitle them to expect our trust.
Ladies and gentlemen,
public pressure on the justice system is bearing fruit. An instance that I would like to highlight as a major step forward and an example for others is the declaration of the Council of Prosecutors and the Ethics Commission of the Prosecution Office calling for their profession to be cleansed of irresponsible individual who are tarnishing its good name. Judges, police officers and prosecutors who are corrupt or suspected of corruption on reasonable grounds cannot remain in their positions. So far, unfortunately, we have not heard such a clear statement of values from judges.
Trust is very easy to lose, but it is hard to recover. I therefore ask all those who are involved to do everything in their power to restore public confidence within the shortest possible amount of time.