The Berlin Wall fell, and it is important that the walls of mistrust between us fall as well
09.11.2019, 00:00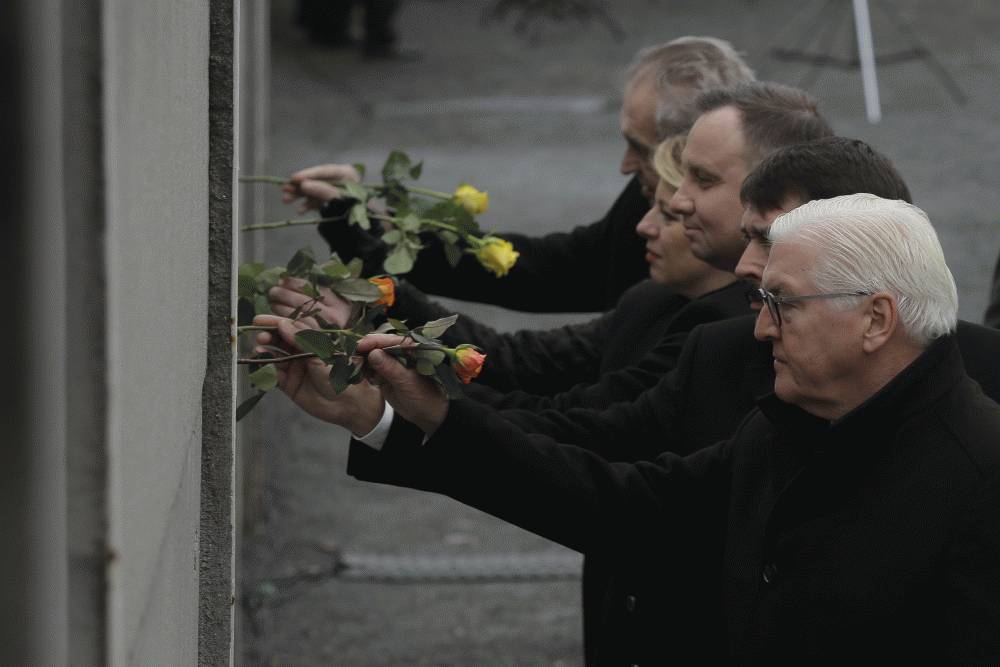 On Saturday 09 November 2019, President Zuzana Čaputová commemorated the 30th anniversary of the fall of the Berlin Wall. At the invitation of the German president, Frank-Walter Steinmeier, she joined the other presidents of the V4 countries at an official ceremony at the Berlin Wall Memorial. Together with the German chancellor Angela Merkel, she put roses into the wall as a symbol of its fall and as a commemoration of its victims.
According to the president, the fall of the Berlin Wall is not only a symbol of the end of the division of one city and one country, but together with free elections in Poland, a pan-European picnic in Hungary and the Velvet Revolution in Czechoslovakia, it is part of a fascinating story of mutual assistance, solidarity and inspiration in the desire for freedom and democracy.

"The Berlin Wall fell, and it is important that the walls of mistrust between us fall as well. It is vital that we commemorate this important anniversary at a time when all too often we hear voices about the continuing division of Europe into east and west. I am convinced that it is our duty to do everything possible to ensure that there is no truth in what such voices say. To show that, like our predecessors 30 years ago, we are capable of cooperation, empathy and mutual understanding today."

In addition to commemorating the 30th anniversary of the change, it is important that the change is followed through to its conclusion. "To make people feel the effects of change, and that the dignity of normal people's lives has improved. So that it is not just a question of remembering values but demonstrating real changes in people's lives."

The German president Frank-Walter Steinmeier highlighted the V4's contribution to the fall of communism during the ceremony: "Together with our friends, we remember with deep gratitude the events of 30 years ago. Without the courage of the Poles and Hungarians, Czechs and Slovaks and their desire for freedom, the peaceful revolutions in Central and Eastern Europe and German unification would not have been possible."

Over the next few days, the president will commemorate the 30th anniversary of the Velvet Revolution at several events.


Photo Galery: