The New Yorker and other world media have written about the president
06.12.2019, 00:00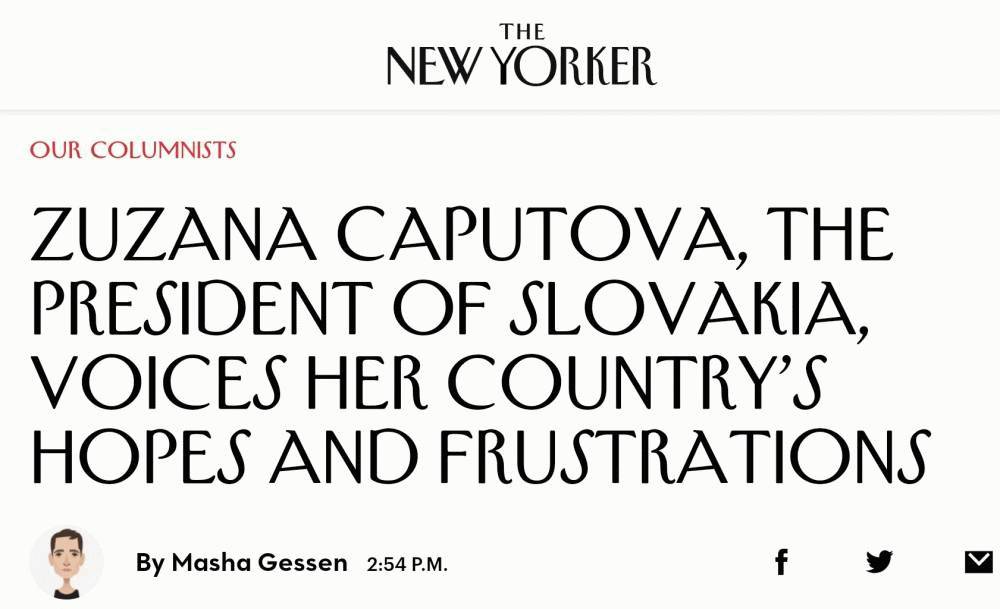 The American magazine The New Yorker has published a profile of President Zuzana Čaputová by the well-known Russian-American journalist and author of several award-winning books, Masha Gessen. They spoke together in the Presidential Palace shortly after the celebrations of the 30th anniversary of the Velvet Revolution. He describes her as a lonely political voice in a sea of demagoguery. This week the website Politico ranked the president among the 28 most influential personalities in Europe and the Slovak version of Forbes magazine proclaimed her President of the Year 2019.
President Zuzana Čaputová has provided extensive interviews for the world media since taking office and has spoken with several respected journalists.
For example, she met with the American journalist and Pulitzer Prize winner Anne Applebaum at the UN General Assembly in New York. Her article for The Washington Post says that the president points the way out of the world's populist swamp. During her visit to Japan in October, the president was interviewed by Eiji Furukawa from one of the world's largest financial newspapers, The Nikkei. The president gave other interviews during her visits to Ukraine, Germany and Austria and appeared in the Ukrainian weekly magazine Novoje Vremja, the German weekly magazine Der Spiegel and the Austrian newspaper Der Kurier. In Paris, the President gave an interview to world-famous journalist Sylvia Kaufmann which was published in the daily newspaper Le Monde.