The president has conferred state honours on 20 personalities
02.01.2020, 00:00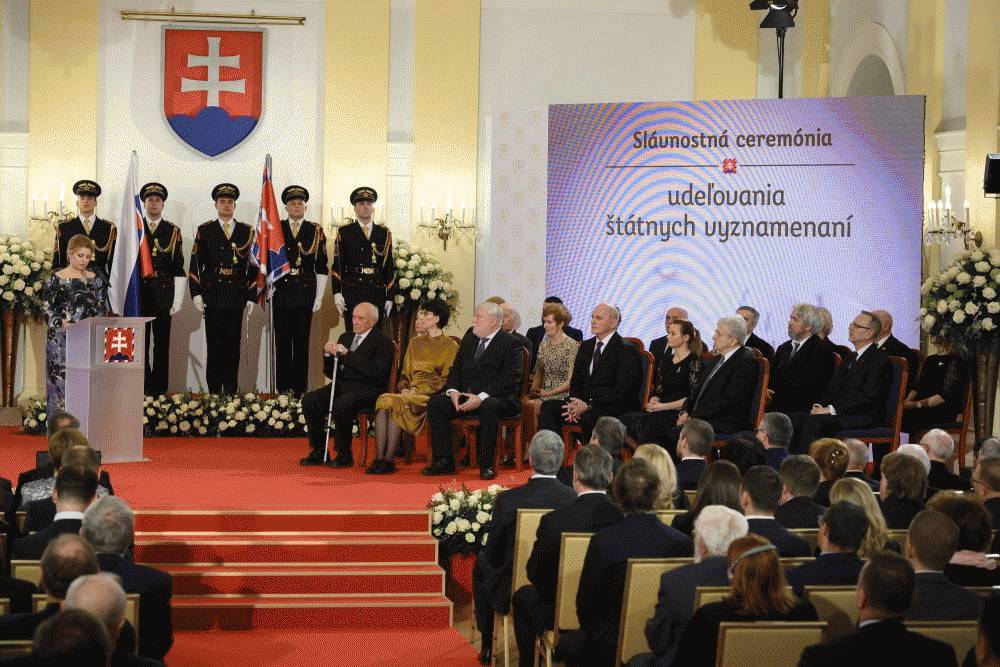 To commemorate the 27th anniversary of the establishment of the Slovak Republic, the president of Slovak Republic Zuzana Čaputová conferred state honours on 20 personalities from social, cultural and sporting life, three of whom were honoured in memoriam. The honourees include several personalities who had participated in the struggle against totalitarianism. The president conferred the state honours on 8 women and 12 men in the historic building of the National Council of the Slovak Republic on Župné námestie in Bratislava.


The president awarded the Order of the White Double Cross First Class in memoriam to the Czech lawyer and politician Milada Horáková, who is considered a symbol of the opposition and resistance to Communism. The Order of Ľudovít Štúr First Class was awarded to literary scholar and politician Peter Zajac, the last two members of the Generals Golian and Viest Student Guards Unit Branislav Tvarožek and Martin Janec (in memoriam), the first Roma doctor in Czechoslovakia Ján Cibuľa (in memoriam) and politician František Mikloško. The Order of Ľudovít Štúr Second Class was awarded to a student leader in the Velvet Revolution Zuzana Mistríková, Professor Helena Barancová, sports trainer Tibor Soós, teacher of information technology Ondrej Demáček, athlete Jozef Plachý, virologist Silvia Pastoreková, high school headteacher Pavel Sadloň and reporter Andrej Bán. The Pribina Cross First Class was awarded to camerman Igo Luther and filmmaker Rudolf Urc; the Pribina Cross Second Class was awarded to sociologist Zora Bútorová, music scholar Alžbeta Rajterová and architectural historian Klára Kubičková. The Pribina Cross Third Class was awarded to Mária Šustrová, a doctor specialising in Down syndrome.

Read the president's speech at the opening of the award ceremony:


"Dear Mr President of the National Council of the Slovak Republic,

Dear Mr Prime Minister of the Slovak Republic,

Dear Mr President of the Constitutional Court of the Slovak Republic,

Distinguished guests,

Ladies and gentlemen,


yesterday we commemorated one of the most important days in our modern history. We celebrated the 27th anniversary of the establishment of the Slovak Republic. If we can consider this day a happy day for all our society, it is for one simple but powerful reason: the vast majority of the citizens of the republic have contributed their courageous daily work to make Slovakia prosper as a country.

Everyone who day after day does responsible work to provide for themselves, the people close to them, their community and their region are working for their homeland. I therefore want to begin by thanking you for the sacrifices that you have made for the objectives that we should all share in.

If in some respects the state of our society does not reflect the efforts and energy that you have invested in it, it is certainly not your fault. In my view, a patriot is anyone who does their job the best they can, who defends human values, even in hard times when they may suffer for it. All of you deserve our respect when you cultivate honest and fair relationships with your loved ones, your colleagues, your opponents and everyone that you come into contact with. Good interpersonal relationships create the much-needed social capital that is able to turn a mass of individuals living in a shared territory into a society.

In his time, the Czech writer Karel Čapek wrote that anyone who wishes to improve the world must begin within the narrow circle of life that they themselves inhabit. I am convinced that the vast majority of our citizens behave in this way. Without the honest daily work of millions of people, no state has any chance of success. We must therefore never forget about the hundreds of thousands of unknown heroes of everyday life. I would like us to bear them in mind this evening during the presentation of our high state honours.



Ladies and gentlemen,

all those who receive the highest state honours of the Slovak Republic today deserve them without a shadow of a doubt. How could we not appreciate the heroes who showed their courage in the worst moments of our history and stood up to a social evil regardless of the specific form that such historic evil took. I greatly appreciate that they continued their resistance even at the cost of their personal freedom and the persecution of their loved ones.

This evening we also want to appreciate personalities who took a personal risk 30 years ago and founded a movement that changed conditions in the country to such an extent that democracy, human rights and freedoms could assert themselves here once again after 4 decades. What these personalities did was not a one-off act, after which they remained forever silent, but the start of 30 years of successful daily action that all of us can be proud of.

They have successfully passed on the baton to a new generation with a greater sensitivity to what is happening in our society and the initiative to enter into these events. People who don't just wait for something to happen, because they live with an urgent feeling that tells them: Who, if not us, when, if not now.

Many of those who will receive honours tonight were undoubtedly born with great talent. But it is to their credit that they did not waste their gift, that they worked on it, developed it and achieved results. Some have excelled through discovery and research with great scientific value.

Others were born with a talent with which, after years of unimaginably hard work, they were able to surprise the whole world in their sports discipline. They set records that it was almost impossible for their successors to match.

Others have used their gifts to inspire their charges to fulfil their potential to its limits. In this way they have brought up several generations of specialists and athletes who have given great performances for Slovakia.

High honours will also be given to artists who have used their extraordinary abilities to create major works that motivated viewers and listeners to think more intensively, feel more deeply and express themselves as personalities more nobly and courageously. In serving their talents, these artists also served the public interest.

I must also mention those honourees who have devoted their own lives to helping others to live a full life. Solidarity with people who cannot solve their problems on their own is a part of the cultural soul of every society.



Ladies and gentlemen,

I consider it an honour and a privilege to thank all of you honourees on behalf of the republic and its people for all that you have done for us and will surely continue to do in future.

Our country needs a realistic and inspiring vision for its successful development; the infrastructure of national success requires constant improvement. It needs a great deal more than that, of course, but we have the most important thing that every country needs if it wants to succeed: We have outstanding people who make extraordinary contributions to our homeland. I am therefore sincerely grateful that I can present to you the highest honours that the Slovak Republic is able to offer.



Ladies and gentlemen, once again, thank you and congratulations."


Photo Galery: