The president's New Year's speech
01.01.2020, 00:00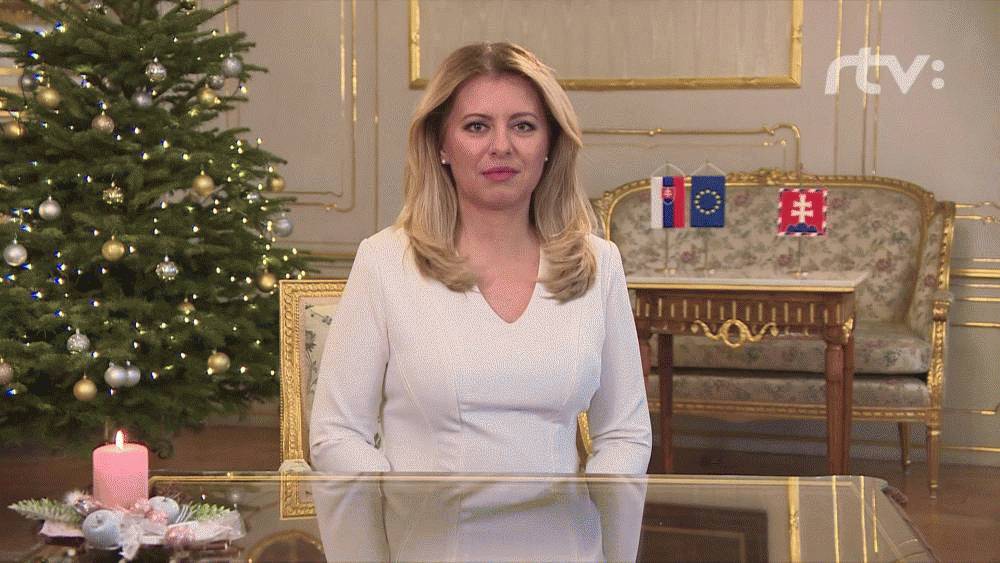 My dear fellow citizens,

I wish you a happy holiday afternoon. I am speaking to you at the beginning of the new year with that hope that is common to us all and which is my wish for you. May you be healthy and happy close to your loved ones, may you find pleasure in the little things that shape our daily lives. I hope that all of us will take advantage of the opportunities offered by the new year to build a successful Slovakia that will feel like home to all of us. Slovakia, which today celebrates the 27th anniversary of its statehood.


I would be delighted if my first New Year's speech in office could be nothing more than that thing that we all need: a boost from kind words. But if it was that, it would not be true. Nevertheless, I hope that it will be a message of hope that we can all contribute to.

The interpersonal relationships, the atmosphere in which our society lives, is not fixed and unalterable. It is the work of every one of us. I have observed the increasing coarseness, vulgarity and manipulativeness of public debate with sadness and disillusionment. We are slowly getting used to personal conflict as a legitimate working method. It feels like the only way to promote our views is to humiliate our opponent and to define ourselves by taking away from someone else. Words are often used instrumentally without regard for their consequences and without heed to the promptings of conscience. We are tired of endless conflicts and many relationships have been broken by such disputes.

We need to bear in mind that however much we argue, we will still be living together in Slovakia. The kinder and more respectful we are to each other today, the less distance we will put between ourselves with disputes and the better we will be able to cope if the post-election situation does not develop according to our expectations. We are all building Slovakia together right now. Anyone who has a genuine interest in the success of our republic must see the others as their brother, sister, fellow citizen and fellow human, with whom, even if they have different views, they will work together on this great endeavour.

Last year there were many events in Slovakia that demonstrated our compassion, solidarity and capacity for self-sacrifice. Especially when we are brought together by an accident that has deprived our fellow citizens of their lives or property. The potential for solidarity in Slovakia is much larger than we often think, and it shows that Slovakia is a country of good people. That is a cause for pride and gratitude.


Dear fellow citizens,

When I talk about solidarity and fellowship, I do not mean that we should feel solidarity with those who have broken the law and who have long managed to avoid the consequences of their actions in our country. The obligation that the rules should apply equally to all and that people should take responsibility for any violation – or, to put it more simply, that we must ensure order and fairness in real life – is the area with the largest deficit after November 1989. Last year was an important year for exposing facts that were sometimes breath-taking. Several audio and video recordings were published, from which we learned that many of those we expected to be serving justice and the public interest were actually on the other side. It is not pleasant for anyone to see how someone who is suspected of the worst of crimes can insult, humiliate and corrupt a former prosecutor general, who acts like his vassal.

The problems we are facing are not small, but I believe that a real cleansing process is underway led by fair and professional investigators and prosecutors. Of course, this process must not stop and must keep moving. Biblical wisdom says that when we know the truth, it will set us free. I hope our knowledge can become the foundation for making next year a year of opportunities.

The enforceability of the law, legal certainty, equality before the law – instead of corruption, formalism and the abuse of justice. This should be one of our most important goals in the coming years. It will require several reforms to strengthen the independence, but above all the responsibility of the police, prosecutors and courts. A fair environment is the foundation of a healthy state.


Dear fellow citizens,

Last year once again showed us that many groups of people in Slovakia are far from being able to enjoy a decent life. I have spoken with people who live in fear of the future despite working hard every day. With women who experienced years of violence and who had no one to turn to for help. With people who, from a young age, have lived without the feeling of being valued, purely because of their membership of a national minority or their skin colour. With people for whom running water and housing security are dreams that are out of reach. With people who are subjected to hatred for being different, or for their desire to live a family life like others. There are many other who are excluded not because of anything they have done but because of factors that they cannot influence that result from the fate life has dealt them.

I want to express my appreciation of the bravery, tirelessness and strength that these people show in the face of circumstances that many of us cannot imagine. We all have our place in Slovakia, our home, the right to quality services from the state, the right to integrate and live with dignity. Giving others a chance to live in dignity does not diminish our chances of living a dignified life. On the contrary, by integrating people living on the margins or in need, we will create a socially and economically more prosperous Slovakia that will be a better home for all of us.

In addition to the need to secure justice and human dignity, I would like to mention some of the other challenges that await us this year and in the future.

In less than two months, the day when the voter is once again king will decide who will represent citizens in the legislature and what strength they will have. It is important to take advantage of this opportunity and vote.

Let us make 2020 a year of chances and opportunities taken. Let us continue the reform of health care to reduce the number of avoidable deaths. To ensure that we have enough doctors and nurses, and conditions that patients can trust.

Let us build a strong system of long-term care for the elderly, as we are the fastest aging country in the European Union, and we have a deficit in facilities and staff per capita.

Let us fulfil our climate commitments with ambitious steps. We are probably the last generation that will be able to take steps to save the planet, so we must act. We need to ensure that our forests are cared for, that our air is clean and that the species at risk from our activities are protected.

We often hear that we are a small country and therefore little can be expected of us. But the strength of the ideas and innovations with which we compete with the world does not depend on our population size. One of the things it certainly does depend on is sensible investment in education, science and research.

Let us give attention to generational poverty and housing shortages. We are a country with a significantly lower number of dwellings per capita compared to other European Union countries; our housing stock is often outdated and cannot guarantee safety. Let us think about the generation of young people we need to keep in Slovakia, because the burden of supporting Slovakia will rest on them in a few years.

Let us remember our culture and our cultural heritage. They help us embrace beauty, but also portray the conflict of good and evil, revive our collective memory of the turbulent moments in our past, raise questions about morality in the public space and the meaning of life.

All these and other challenges cannot be solved in one year or indeed one parliamentary term. Nevertheless, they all need us to take real, tangible steps towards change in 2020.

Let us not be discouraged by the size of the tasks we are facing. Let us concentrate on the path, the individual steps that will lead us to them. Let each of us work to the best of our ability within the area we know best, because that is all that we can take responsibility for.


Dear fellow citizens,

I understand your concerns about the uncertain future, your fears for your loved ones, their safety and health. I understand that sometimes you feel angry about the unfairness that you are exposed to. We cannot let these emotions paralyse us. I will try to support you in seizing opportunities and completing the transformation of our Slovakia as a Central European success story.

One more thing is needed – and that is trust. Not only trust in the goals we set, but trust in institutions. Despite the distressing revelations about the failures of individuals, we should not give up our trust in the police, prosecutors, the courts, our hospitals, fire fighters or civil servants. Many of them did a good job last year, several behaved bravely, others heroically, when saving human lives, for example. We should not even give up all our trust in politicians. Not all of them are unworthy. Let us not be poisoned by lies and hatred. We have great people – people are the greatest potential of our country.



Dear fellow citizens,

let's not forget that we have reasons to be proud. Slovakia is doing well in many parameters; we are a respected and stable partner for other countries; and our people are achieving great results on the world stage. Let us heal the teething troubles of our young democracy like the deficiencies in the rule of law and unleash the full potential that our Slovakia possesses. By working together with a variety of attitudes and opinions, with respect for the truth and humanity. May 2020 be a year of opportunities that we take advantage of.

We can do it.