Seat of the President of the Slovak Republic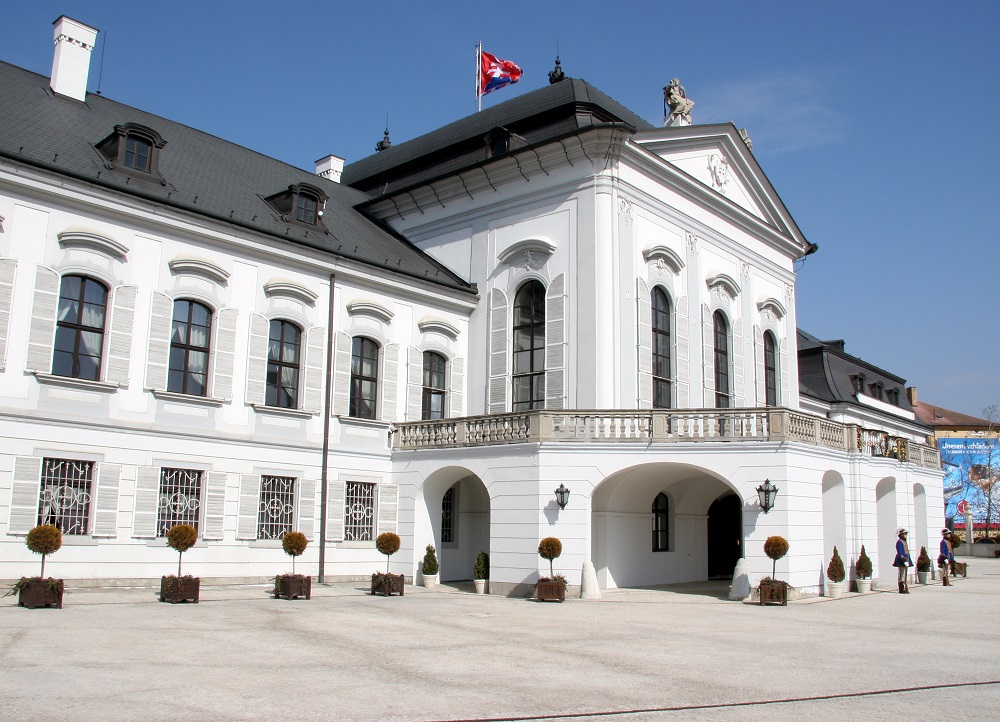 The Grassalkovich palace is the residence of the president of Slovak Republic since the year 1996, yet first it had to go through a full-scale reconstruction to its original form from the 1860s.

The late baroque style palace accepts guests through the courtyard, which has an honour guard. The entrance hall has a staircase decorated by unique sculptures and it is also possible to reach the Garden hall from there.
The great hall on the first floor has a preserved partially original gilded stucco decoration. In the past it has served as a concert hall and today is a place of official welcoming ceremonies and signing of important treaties. The welcoming parlour of the head of state is a former music hall with preserved parts of wooden panelling as well as paintings depicting allegories of music, singing and dance.
The second floor features resting areas for the head of state and most of the office spaces.
Another valuable space of the palace is the chapel of St. Barbara with original rococo and classicist frescoes, uncovered thorough a reconstruction. The garden behind the presidential palace is open to public and is a preferred place for walks of both Bratislava residents as well as tourists.
The palace was built by count Anton Grassalkovich, an aristocrat of Croatian origin and one of the most important Hungarian politicians. During his life it has served as a summer residence and was positioned just outside of the city. Count Grassalkovich was favoured by the Empress Maria Theresa. He has organised numerous summer festivities and balls, which were frequented by members of the imperial court. In the year 1775, he was visited by Maria Theresa herself.
The most prominent guests included the composer Joseph Haydn, who has premiered a number of his works here. The last residents of the Grassalkovich palace during the Austro-Hungarian Empire were the Archduke Friedrich and his wife Isabella. Since that time the palace has changed owners a number of times. During the First World War, the palace served as military headquarters and during the Second World War it was transformed into a residence of the president of the Slovak State. During socialism the building was used by a pioneer youth organisation.