Kiska honoured the anniversary of Czechia's accession to NATO
12.03.2019, 15:06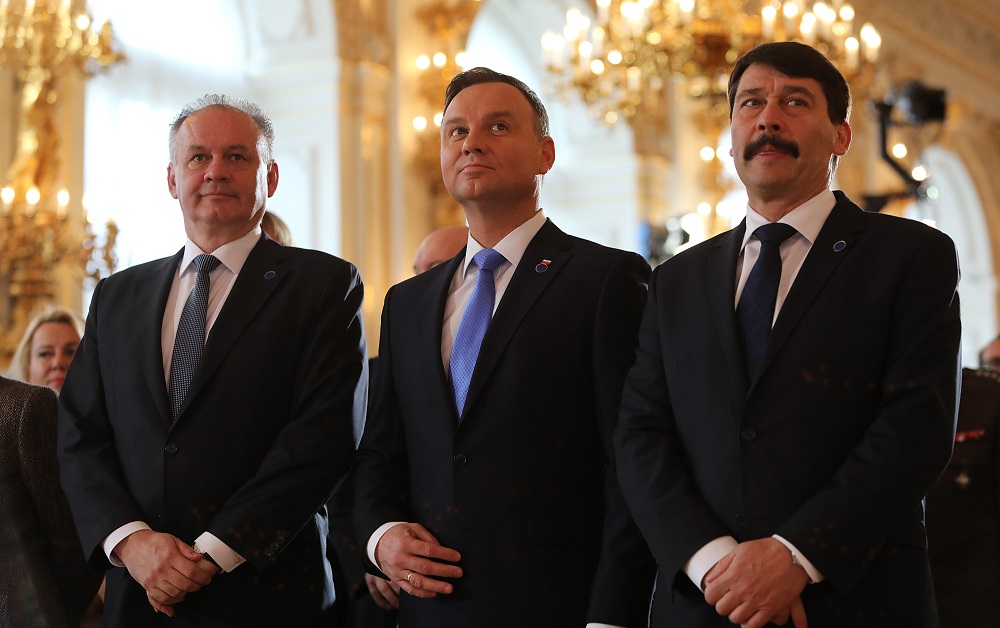 On Tuesday, President Andrej Kiska took part in the celebrations of the twentieth anniversary of Czechia's accession to NATO. President János Áder of Hungary and President Andrzej Duda of Poland also accepted invitations to Prague.
At a ceremony in Prague Castle, the presidents of the Visegrad Four countries made speeches and participated in a group discussion on the significance of our countries' membership of NATO. Czechia joined NATO in 1999 together with Poland and Hungary in the first wave of NATO expansion after the fall of the Iron Curtain. Slovakia is commemorating the fifteenth anniversary of its accession to NATO this year.
The celebrations at Prague Castle were also attended by Deputy Secretary General of NATO Rose Gottemoeller, former US Secretary of State Madeleine Albright, the ministers of foreign affairs and defence of the V4 countries and other distinguished guests from Czechia, Slovakia, Poland, Hungary and the USA. Speech by President Andrej Kiska:
"I am glad to be here today with my fellow presidents to honour the twentieth anniversary of their countries' accession to NATO. Those three of the Visegrad Four countries were the first three states from the former eastern bloc to become members of NATO. It is safe to say that this was real, tangible and definitive evidence of the fall of the Iron Curtain. Those who had once stood on opposite sides of the barricades in the Cold War found themselves in the same alliance – ready and willing to defend each other. Your countries' accession opened the way for Slovakia to join that alliance as well. Your assistance and support helped Slovakia to become a member five years later and this year celebrate the fifteenth anniversary of our accession.
I think it is absolutely vital to continuously make the case that accession to NATO was our own sovereign and free decision. The fact that we now live in peace, that we are successful and prospering countries is the result of the decisions that we made in the past. It is no accident that NATO member countries are successful and prospering countries. And it is not because they were like that when they joined. It is thanks to the fact that they joined. Investors came to us because they could feel secure in our countries. Because they knew we were countries that would abide by certain rules. We have sent a clear signal about our place in the world and our values. The sort of future that we want for our citizens. And discussing these questions is just as important today as it was then.
The fact that we joined NATO at different times has no influence on the situation we find ourselves in today. On the contrary, it is important to demonstrate that we contribute to the alliance. That we keep our promises. That we have forces that are well equipped and ready to defend our citizens and our allies. And that every cent that we invest in defence is used effectively, transparently and for a clear purpose.
I believe that defence is very much a question of confidence. Of citizens' confidence in our ability to protect them. We will not achieve that by casting doubt on our membership of NATO or the EU. By trivialising or equivocating about the threats we face. By claiming that there is no threat from the illegal and aggressive actions of Russia. Or by pretending that propaganda, misuse of information and disinformation are the products of fantasy or paranoia and that they have no effect on our citizens. We must remember that all such moves weaken and undermine the security of our citizens. And they threaten the unity that is utterly vital for NATO and our collective defence.
The only way for us to build confidence is to persuade our citizens that their security is increased by our decisions and the enormous sums that we invest in defence. We must also defend the interests of our citizens in the alliance – by clearly talking about the things that worry us and our citizens, and about the threats that we perceive. Because if we do not bring up these threats, there is no one who will do it for us.
The same applies to the security of Europe. I recently hosted a meeting of eight presidents in Košice. We agreed there that we need to invest in European defence within NATO. We must reduce the profound gap between Europe and the USA. Because even though Europe is an economic superpower these days, we punch below our weight in security. A stronger Europe would also be the best argument against those who are currently trying to undermine the unity of our alliance and the importance of NATO. Ladies and gentlemen, it is important for our citizens and for their security that we belong somewhere. We must not allow ourselves to be distracted by those who say we belong to neither the east nor the west. That we are somewhere in the middle. That we should be a sort of bridge, linking the sides together. The truth is, on the contrary, that our situation in the present is the result of our sovereign decision to join the countries that are democratic, prospering and secure. That has proved to be the right decision.
Thank you."
Photo Galery: